Nissan's SUV lineup has expanded to include six models. Short of the expensive Armada, the two largest models are the Murano and Pathfinder. This generation of the Murano has been around since 2014, but the 2022 Pathfinder is a fresh design.
Which is the better buy? Here's a quick comparison of key specs and features to help you make an informed decision.
What the Nissan Murano Gets Right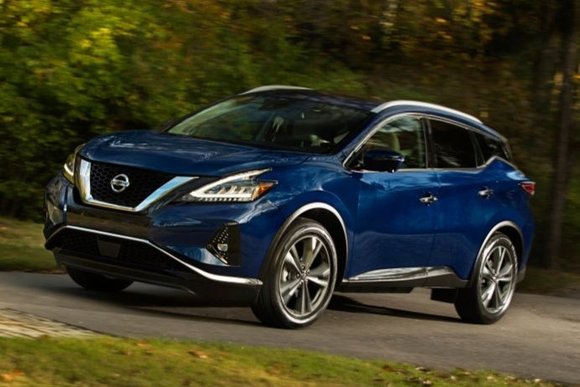 The Murano is smaller than the Pathfinder, but that also means it's cheaper. In base form, the Pathfinder costs $600 more.
The Murano still gets a V-6 engine, and it's only 24 horsepower shy of the Pathfinder's output. It's a strong powerplant, and it pairs well with the Murano's plush ride.
The Murano seats a maximum of five passengers, but those in the second-row get nearly 39 inches of legroom. That's strong for the class, and about three inches more than the Pathfinder.
Read Our Overview of the Nissan Murano
What the Nissan Pathfinder Gets Right
The Pathfinder may be more expensive, but the gap isn't as large as you might expect — and in some trim configurations, it disappears entirely. The Pathfinder offers extra size and capability to make up the difference.
To start, the Pathfinder's stronger V-6 gives it a 6,000-pound towing capacity. That's four times what the Murano can pull. Despite being the heavier vehicle, the Pathfinder also matches the Murano's EPA fuel economy ratings. While the Murano is still stuck with a CVT, the new Pathfinder uses a nine-speed automatic transmission that makes for a more pleasant drive.
Most notably, the Pathfinder is a three-row SUV. It can carry up to eight, and its cabin holds up to 80.5 cubic feet of cargo. As a family hauler, it's more capable than the Murano.
Read Our Overview of the Nissan Pathfinder
A Fresh Face
The Murano is showing its age in places. It's thirsty by modern standards, and it offers little to stand out from the pack.
Most importantly, it costs nearly as much as the Pathfinder. For a relatively small price premium, the Pathfinder offers more power, capability, and space.
Our Verdict
At the moment, this is an easy decision. The Murano is due for a redesign in the next year or two — we'll update this comparison once we've tested it. For now, however, the Pathfinder is a much better value.