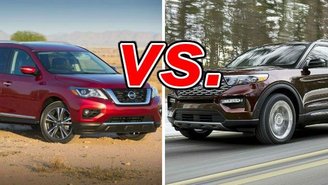 Both the Nissan Pathfinder and Ford Explorer have followed similar paths. Both SUVs were once based on rugged pickup trucks, offering go-anywhere, do-anything capability that their platforms hinted toward. Now, things are a little different. The Explorer and the Pathfinder have embraced their roles as being more road-oriented SUVs for families.
While they share a similar background, there are a lot of differences between the two that may have you leaning toward one option. Which one is the better overall choice? That's what we'll aim to answer below.
See a side-by-side comparison of the Pathfinder & Explorer »
What the Pathfinder Gets Right
For families on a budget, the Nissan Pathfinder is the more value-packed option. Pricing for Nissan's mid-size SUV starts at $32,725 including destination, while the Ford Explorer costs $37,870. With the extra $5,145 in savings, you could move up to a mid-level Pathfinder SV trim with four-wheel drive and still have extra money left over.
If having a smaller vehicle that's easier to park and drive in urban areas is one of your priorities, then the Pathfinder is the better pick. The Pathfinder is shorter in length and in width, which will make it more manageable on tight roads.
What the Explorer Gets Right
The Ford Explorer is all-new for the 2020 model year and is better in every way over its predecessor. While the Nissan Pathfinder has a V6 as standard, the Explorer has a turbocharged four-cylinder that, interestingly, makes more power.
The Explorer's 2.3-liter turbocharged four-cylinder makes 300 horsepower and 310 pound-feet of torque. The Pathfinder's 3.5-liter V6 is good for 284 hp and 259 lb-ft of torque.
If it's fuel economy you're after, the Explorer also wins this battle. The Pathfinder gets an EPA-estimated 23 miles per gallon combined, but the Explorer checks in at 24 mpg combined, or 28 mpg combined with its available hybrid powertrain.
For 2020, the Explorer moves to a new rear-wheel-drive platform that increases interior space. The Ford has more second-row head room, third-row head room, front leg room, third-row leg room, front hip room, second-row hip room, front shoulder room, and second-row shoulder room than the Pathfinder.
The Explorer also has more cargo capacity than the Pathfinder – 18.2 cubic feet behind the third row, 47.9 behind the second row, and 87.8 in total. The Pathfinder's figures are 16.2 cubic feet behind the rear seats, 47.4 behind the second row, and 79.5 total.
When it comes to safety, the new Explorer gets the benefit there, as well. Ford's Co-Pilot360 suite of active safety features is standard, which includes blind-spot monitoring, rear cross-traffic alert, automatic emergency braking, lane keeping assist, and more. The Pathfinder comes with automatic emergency braking, forward collision warning, and rear parking sensors as standard.
All-New or Old?
The current Nissan Pathfinder can be traced back to 2013, while the Ford Explorer is all-new for the 2020 model year. Despite its age, the Pathfinder isn't a bad option, it's just not a good one against newer and more advanced options. Still, for families that need seating for seven with a comfortable cabin, the Pathfinder is an option that's worth looking into.
Our Verdict: Ford Explorer
The Ford Explorer is more spacious, powerful, efficient, and tech-forward than the Nissan Pathfinder, making it the clear winner in this comparison. Ford's extremely popular SUV gets even better for 2020, which should make it even more desirable than before.
Take a closer look at the Nissan Pathfinder »