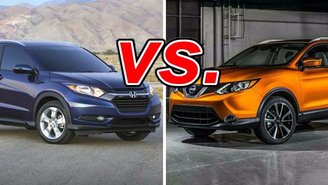 The subcompact crossover segment has blown up in recent years as virtually every automaker is getting in on the fun. The Honda Fit-based HR-V jumped in two years ago, and Nissan joined in 2017 with the Rogue Sport.
While they both offer easy-to-drive platforms and decent-for-crossover fuel economy, which is the best overall buy, the HR-V or Rogue Sport? Keep reading to find out.
See a side-by-side comparison of the HR-V & Rogue Sport »
What the HR-V Gets Right
The HR-V is friendlier on the wallet than the Rogue, starting from $20,405 (including $940 destination fee) to the Rogue Sport's $22,380 (including $960 destination fee) base price. This gap is so wide, buyers can move up to the midrange HR-V EX and still pay just $75 more than the base Rogue Sport.
Though it's 3.3 inches shorter than the Rogue Sport, the Honda HR-V's cabin is more spacious in nearly every major category. Its second row is where this is most obvious, as the HR-V has an impressive 39.3 inches of rear seat leg room to the Rogues 33.4 inches.
The HR-V, while coming in slightly under the Rogue Sport in cargo room, does have more flexible cargo-hauling options, thanks to its innovative Magic Seat second row. This seat can fold flat for cargo or the seat cushion can fold forward for tall, thin cargo.
What the Rogue Sport Gets Right
The Rogue Sport has additional safety equipment that the HR-V simply doesn't offer, including blind-spot monitoring and forward-collision warning with automatic emergency braking. This does come at a $1,500 cost on the midrange SV trim, but it's peace of mind the HR-V can't match.
Not many compact crossovers can say they offer more cargo room than the HR-V, but the Rogue Sport can. Its 61.1 cubic feet of maximum cargo room tops the HR-V by 2.3 cubic feet.
It's Tough to Beat the HR-V
The Rogue Sport is in no way a subpar crossover. In fact, it does a lot of great things, especially in safety and overall cargo room. But the HR-V with its Magic Seat, fresh looks, roomy interior, and lower price point is tough to beat.
Verdict: Honda HR-V
A lower price, more passenger room, and its flexible cargo hauling all add up to a victory for the HR-V.
Take a closer look at the Honda HR-V »