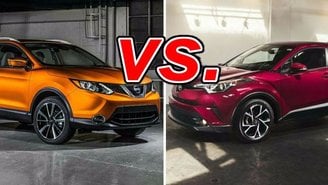 Americans have demonstrated their love of family-size crossovers over the past decade and now, automakers are betting consumers will flock to small ones with just as much enthusiasm. The Nissan Rogue Sport, which debuted last year, and the all-new Toyota C-HR are among the growing breed of subcompacts, offering spunky looks, fine efficiency, and most of the features found in their larger siblings.
Both models are bound to win over active singles and couples, but which makes the most of its modest size?
See a side-by-side comparison of the Rogue Sport & C-HR »
What the Rogue Sport Gets Right
The Nissan Rogue Sport has a lower profile and more aggressive styling than the regular Rogue, although it still looks the part of a proper crossover. Five passengers fit reasonably well, and there's 61.1 cubic feet of cargo space with the rear seat folded. That's well above average for the smallest class of crossover.
The Sport carries a 2.0-liter four-cylinder engine with 141 horsepower and 147 lb-ft of torque, paired with a continuously variable automatic transmission. The Rogue Sport is EPA-rated at 29 miles per gallon in combined city and highway driving, or 28 mpg with the available all-wheel drive system.
What the C-HR Gets Right
With it's angular design, bold stance, and nearly concealed rear doors, the new C-HR is nothing if not daring. It's safe to say Toyota is going after younger, style-conscious buyers who may not have considered a crossover before.
Passenger space is biased toward to front, where the driver and passenger enjoy plenty of leg room and surprisingly supportive bucket seats. The C-HR's sloping roof takes its toll on rear headroom on cargo space. Even with the seats folded, capacity maxes out 36.4 cubic feet. Many small hatchbacks can carry more.
The C-HR's 2.0-liter four-cylinder engine delivers 144 hp and 139 pound-feet of torque to the front wheels — there is no all-wheel drive option. Like the Rogue, the C-HR comes equipped with a CVT and earns an EPA rating of 29 mpg combined.
The C-HR Turns Heads, But Something Is Missing
The C-HR achieves a level of cool that's rare in a crossover — or any four-door vehicle for that matter. The trade-off is reduced utility and no all-wheel available at any price. The Rogue doesn't force those concessions on the buyer, and still offers enough visual punch to keep from getting lost in a parking lot.
Our Verdict: Nissan Rogue Sport
There's no denying the C-HR's charisma, but the Rogue Sport delivers more of what buyers expect in a small crossover.
Take a closer look at the Nissan Rogue Sport »