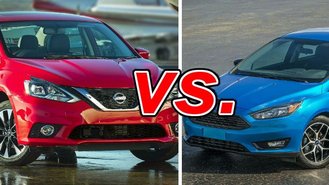 The Nissan Sentra has had a much longer career than the Ford Focus, which launched just before the turn of the millennium. But both cars have had their ups and downs throughout their production runs.
The previous-generation Sentra, for instance, attempted to grab customers with its refined ride, but instead pushed them away with over-the-top styling. The Focus battled plenty of reliability issues early in its life, and then became a victim of poor design choices as Ford struggled to find an identity for its compact.
Those troubled days are long over, and the Focus and Sentra are at the top of their games. But which is the better choice for you?
See a side-by-side comparison of the Sentra & Focus»

What the Focus Gets Right
A quick look around the Focus reveals that it's a cut above what you might expect in an economy car. Its exterior styling is sharp and expressive, and the interior surrounds you with high-quality materials. The dashboard layout, in particular, conveys a reassuring level of quality and refinement.
The Ford's 160-horsepower 2-liter engine is potent for this class and still delivers up to 40 mpg on the highway. Crisp handling and a well-balanced suspension contribute to an overall feeling of satisfaction in daily driving.
What the Sentra Gets Right
The Sentra comes in five trim levels, including the thrifty FE+S edition, which delivers 30 mpg in the city and 40 mpg on the highway. Other models are within 2 mpg of the FE+S. The available continuously variable automatic transmission (CVT) has been massaged this year for quieter performance.
The Sentra excels in backseat room. Ride quality is impressive: not cushion-soft, but nicely absorbent on most surfaces. The steering setup offers excellent feel, if not sporty handling.
See more sedan comparisons here »
Which Impresses Us More?
It's easy to appreciate the Sentra for its classy demeanor and hospitable interior. It's a well-rounded, inexpensive sedan that you can take anywhere with no apologies.
The Focus scores highly for its overall performance and refinement, which defy its economy-car price.
Our Verdict: Ford Focus

Ford has managed to produce a compact with the feel and road manners of a more expensive car.
Take a closer look at the Nissan Sentra >>