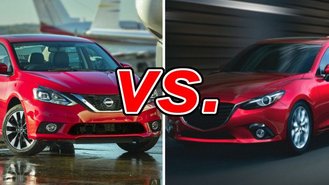 There has been a Sentra on the market ever since Datsun changed its name to Nissan in the early 1980s. Now in its seventh generation, the Sentra has earned a reputation for providing efficient, inexpensive transportation and remains a top choice among first-time buyers.
Buyers are less familiar with the Mazda Mazda3, which has been on sale for barely a decade. But with its spirited driving characteristics, does it really need a long history in order to woo buyers?
See a side-by-side comparison of the Sentra & Mazda3 »
What the Sentra Does Right
The Sentra aims for above-average refinement for this class and certainly achieves it. The understated styling will remind you of more expensive cars and is likely to wear well over time. There's plenty of passenger space, especially in the back. Fit and finish are excellent throughout, well beyond anything found in previous Sentras.
Underneath the skin, the focus is efficiency. The 1.8-liter four-cylinder makes 130 horsepower, which is nothing special, but the Sentra can hit 40 mpg on the highway when equipped with the available automatic transmission.
What the Mazda3 Does Right
The sprightly Mazda3 carries out the brand's mission to provide some fun for the driver in all of its models. Horsepower starts out at a healthy 148, and goes up to 167 in upper-trim models. Firm suspension tuning and communicative steering provide athletic handling that's easy to appreciate in everyday driving.
Mazda deploys quality materials throughout the interior, so there's little evidence you're riding in an economy car. Buyers with things to carry can opt for a rather attractive hatchback variant.
Different Formulas
The Sentra takes a conservative approach to compact transportation, emphasizing grown-up design and solid value. In contrast, the Mazda3 leads with its zippy performance and expressive styling.
Our Verdict: Mazda3
On paper, the Sentra and the Mazda3 seem like peas in a pod. Drive them back-to-back and you'll discover a key difference: the Mazda is a pleasure to drive.
Take a closer look at the Nissan Sentra >>