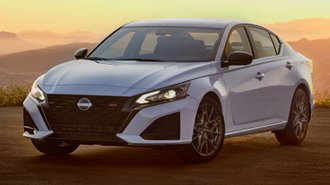 Nissan's Sentra and Altima are each a solid choice in a sedan if you're looking for a vehicle that comes loaded with standard safety features and won't break the bank.
Since the Sentra is considered a compact car, it's no surprise that it's smaller and cheaper than the Altima which is a midsize sedan. Even though the Sentra is cheaper to buy, its base model comes well-equipped with standard features that you won't find in the base Altima S.
If you're set on a Nissan but need to decide which sedan to choose, we have the specs and info to help including price comparisons, size differences, and which may be better. Here's what we know about the sibling Nissan Sentra and Altima vehicles.
Nissan Altima vs. Sentra Price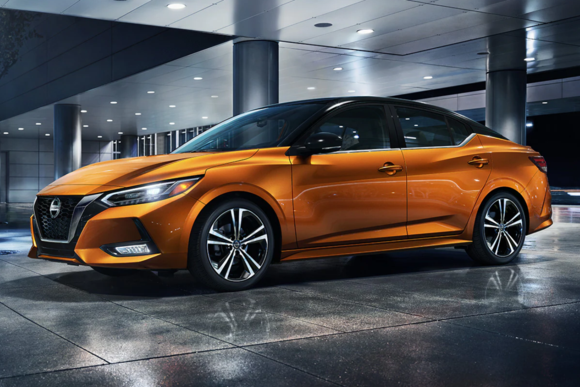 Nissan Sentra is the more affordable model when you're comparing the Nissan Altima versus the Sentra price. This comes down to it being a compact sedan, whereas the Altima is classified as midsize.
Pricing for Sentra's three-trim range runs between $20,485 and $23,075 with destination. If you don't need the extra space the Altima provides, you can save quite a bit of cash by choosing a Sentra. Altima models start at $26,385 and run to $33,085 for range-topping SL trim, which isn't an option in the Sentra lineup. Other trim levels, S, SV, and SR are shared in both models.
Sentra is well-equipped despite being one of the most affordable vehicles in its class. Its list of included features isn't extensive in the base model, but it's more than is offered by some competitors. A seven-inch touchscreen, Apple CarPlay, Android Auto, push-button start, a tilt-and-telescoping steering column, and four audio speakers are standard. There aren't any options packages available for the base S trim.
Moving up to the SV trim will cost only $1,100 more – $21,545 – and gives you an eight-inch touchscreen, a seven-inch digital driver display, dual-zone automatic climate control, keyless entry, six audio speakers, nicer cloth upholstery, and alloy wheels. However, packages that add on even more impressive features are expensive – the premium package on the mid-range SV trim will set you back around $2,270.
Being siblings in the Nissan lineup means that additional features aren't just expensive on the Sentra though. The Altima has even higher prices for its packages. If you opt for the Altima and want to add all the bells and whistles, Premium packages run nearly $3,000 depending on trim, but again, there are no options for base S models. Base S models come standard with a 5-inch display, Bluetooth, six audio speakers, and a single USB port. Apple CarPlay and Android Auto aren't even available until the SV trim.
Nissan Sentra vs. Altima Size
The Nissan Altima takes the prize if you're looking for space, although the Sentra isn't far behind. The Sentra gives riders ample room for the class, and in fact, just beats the larger Altima by a hair when it comes to front legroom, 44 inches for the Sentra to 43.8 inches for the Altima.
Riding on 16-inch wheels, the Altima stands 192.9 inches long and seats five in relative comfort with 101 inches of passenger volume. The Sentra gives you 96 inches of interior passenger space and is much shorter, at 182.7 inches long.
For a compact car, the Sentra is comfortable for passengers in both rows, giving ample space despite its classification as a compact car. Front passengers get 44 inches of legroom and 38.9 inches of headroom. It's a tighter squeeze for larger adults though, with only 53.5 inches of hip room and 56.4 inches across the shoulder.
While legroom and headroom, coming in at 43.8 inches and 39.1 inches respectively, aren't much different from the Sentra, there's substantially more hip room and shoulder room in the Altima. It's in the extra width that passengers will feel the comfort in the Altima, which gives front passengers 54.7 inches of hip room and 58.2 inches of shoulder room. The two extra inches in width carryover into rear seat dimensions as well.
Both vehicles have decent trunk space for their classes, 14.3 cubic feet for the Sentra and 15.4 cubic feet for the Altima.
Nissan Sentra vs. Altima Gas Mileage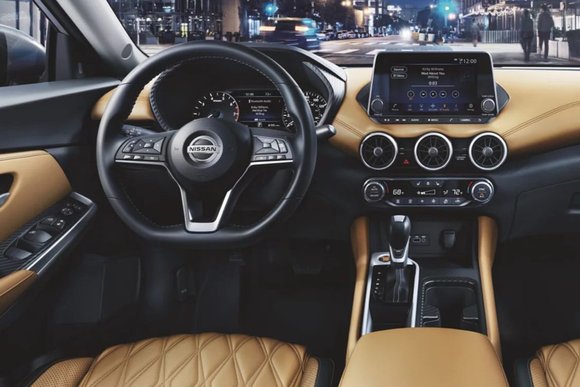 When it comes to Altima vs Sentra gas mileage, there's not much difference between the two. The Altima carries a 2.5-liter four-cylinder engine that produces 188 horsepower and 180 pound-feet of torque. It's mated with a 2-speed CVT with Overdrive and gets just a smidge less mileage than the Sentra.
According to the fueleconomy.gov website, the EPA estimated fuel economy on the latest Altima model is 27 miles per gallon city, 39 miles per gallon highway, and 32 miles per gallon combined.
With its 2.0-liter four-cylinder engine that produces 149 horsepower and 146 pound-feet of torque, the Sentra won't blow you away off the starting line but still gets decent oompf. It gets 29 miles per gallon city, 39 miles per gallon highway, and 33 miles per gallon combined.
Which Is Better: Nissan Sentra or Altima?
Which Nissan is better is a matter of taste and your needs.
The midsized Altima makes a solid car for a midsize sedan, packing in a lot of features in higher trims and giving you decent pep from the engine. This is a sporty-looking option which we feel is a good model for many consumers. With a new front end for the 2023 model year and nicely flowing sharp body lines, this sedan is quite a looker.
However, if you're on a smaller budget, the Sentra has come a long way in the compact car segment to be right at the top of the pack in our opinion. This clever-looking car comes with enough features in the base model to make it worth looking at, though there is more for everyone in the higher trims. You also don't lose much in terms of space over the Altima. Sentra is only two inches narrower, and you lose a cubic foot of trunk space, but that's about it for space.
Nissan also includes a well-rounded suite of safety features in all their vehicles called Nissan Safety Shield 360, this is a feather in the cap for Nissan, and won't make your choice any easier. Even base models across the lineup come standard with more safety features than competitors.
Both the Altima and the Sentra feature forward-collision warning, pedestrian detection, forward and reverse automatic emergency braking, lane departure warning, and blind-spot monitoring. The Altima includes a rear cross-traffic alert, while the base Sentra features a driver attention monitor.
With all these impressive features standard on both the Sentra and the Altima, it can be hard to tell which is a better option. No matter which you choose, we'd spend a little extra to choose the SV trim in either model, though the base Sentra S is the better budget option. Don't bother looking at the base Altima, its features aren't worth the price.
Overall the Altima is a bit pricey, but it has the size to haul around five passengers and their gear in comfort, while the 2.5-liter engine gives you the horsepower to be fun enough to drive. The Sentra doesn't pack as much punch but it'll be easier on your pocketbook.