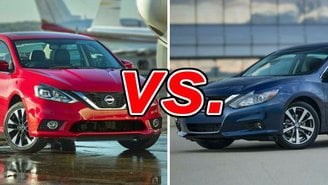 When you're trying to decide between compact and midsize sedans, it's the usual competition between what each delivers for the price. Nissan's Sentra and Altima have lots of appealing features, which makes the choice even more challenging.
Which gives you more for the money, the compact Sentra or family-size Altima?
See a side-by-side comparison of the Sentra & Altima»
What the Sentra Gets Right
The Sentra comes in five trim levels, including the thrifty FE+S edition, which delivers 30 mpg in the city and 40 mpg on the highway. Other models are within 2 mpg of the FE+S. The available continuously variable automatic transmission (CVT) has been massaged this year for quieter performance.
The Sentra excels in backseat room. Ride quality is impressive: not cushion-soft, but nicely absorbent on most surfaces. The steering setup offers excellent feel, if not sporty handling.
What the Altima Gets Right
Critics have charged that the current Altima is more subdued than its pre-2013 predecessor, lacking that generation's more nimble handling skills. Maybe so, but a practical-minded shopper can hardly ask for more in a midsize family four-door. In ride quality, in performance, in overall refinement and quietness, the Altima ranks well above the midsize pack.
Nissan has been a leader in continuously variable transmissions (CVTs), and the Altima's version is more refined than earlier examples. Even when coupled with the 2.5-liter four-cylinder engine, the CVT manages to extract considerable power, operating nearly as effectively as a conventional automatic. That engine gets a fuel-economy estimate of 27/39 mpg (city/highway), whereas the optional 3.5-liter V6 manages only 22/32 mpg.
Is the Cheaper Sentra a Better Deal?
The price difference between the Sentra and Altima isn't insignificant. On average, the Altima costs $6,000 more. Does it really feel like you're get an extra $6,000 worth of car?
Our Verdict: Nissan Altima
Yes, the Altima is worth the extra money and then some. You get more room, more style, more power, and only a slight drop in fuel efficiency.
Take a closer look at the Nissan Sentra »