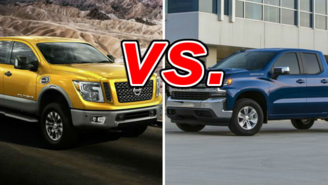 With the release of the 2016 Nissan Titan XD, this Japanese pickup introduced a new niche in the truck market: a half-ton-size pickup with near-three-quarter-ton capabilities. This is met by the all-new 2019 Chevrolet Silverado 1500 with its sharp design, new engine options, big weight loss, and advanced features. Can this niche pickup beat the wide net the more diverse Silverado 1500 casts? Find out below.
See a side-by-side comparison of the Titan XD & Silverado 1500 »
What the Titan XD Gets Right
The Nissan Titan XD gives niche shoppers a pickup that falls nicely between the half-ton and three-quarter-ton segments. While this may seem a little narrow, having the added capability without the heft of a three-quarter-ton pickup will appeal to plenty of buyers. This gives the XD a 12,000-pound towing capacity, beating the Silverado 1500 by 630 pounds, without being significantly larger than the Chevy.
Under its hood, the Titan XD has a standard 5.6-liter V8 engine that churns out 390 horsepower and 394 pound-feet of torque. This easily crushes the Silverado's four- and six-cylinder engines. What really sets this big Nissan apart is its optional 5.0-liter Cummins turbodiesel with 310 hp and 555 lb-ft of trailer-tugging torque.
What the Silverado 1500 Gets Right
The Silverado 1500 gets a quick head start on the Titan XD with its $33,695 (including destination) base MSRP, which is $370 cheaper than the base Nissan Titan XD. This allows buyers to add an option or two without crossing the Titan XD's pricing threshold. That said, you cannot get a V8 engine in the Silverado for cheaper than the base Titan XD.
Speaking of engines, the Silverado 1500 has more total engine options. These include a 2.7-liter four-cylinder with 310 hp and a 285-hp, 4.3-liter V6. Like the Titan XD, the Silverado 1500 has a diesel engine, but it's a smaller 3.0-liter turbodiesel unit Chevy tuned more for fuel economy than power. Also, the Silverado's optional 6.2-liter V8 pumps out 420 hp and 460 lb-ft of torque, crushing the Titan XD's standard V8 engine.
While neither truck is a modern marvel in safety, the Silverado 1500 has a few extra advanced safety goodies the Titan XD lacks. These include its available adaptive cruise control, automatic emergency braking, lane keeping assist, automatic high-beam headlights, and more.
Titan XD Fits a Tight Spot for Buyers
Sure, you can't park the Nissan Titan XD in a tight spot, but it does fit a narrow buying niche with its slightly higher towing capacity and optional torque-heavy diesel engine combined with its half-ton footprint. If this narrow niche fits your needs, the Titan XD is a no-brainer.
Verdict: Chevrolet Silverado 1500
The Chevy Silverado 1500 may lack in some areas relative to the Nissan Titan XD – towing and low-end torque, for example – but it fits a broader range of buyers. This makes it a better overall buy for the average truck buyer than the stronger Titan XD.
Take a closer look at the Nissan Titan XD »