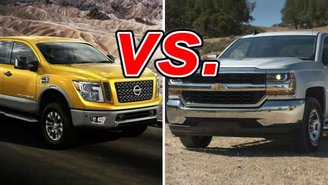 With the redesigned 2017 Nissan Titan also comes the Titan XD, which is supposed to bridge the wide gap between light- and heavy-duty pickups. While the Titan XD does offer a meatier optional engine and additional towing capacity compared to the standard Titan, how does it stack up against the Chevrolet Silverado 1500, a perennial favorite among half-ton trucks?
See a side-by-side comparison of the Titan XD & Silverado 1500 »
What the Titan XD Gets Right
Other than the Chevy's range-toping 420-horsepower 6.2-liter V8, the Titan XD's standard 5.6-liter engine beats all the Silverado 1500's engines with its 390 hp and 394 pound-feet of torque. What's more, this Nissan has a 5.0-liter V8 Cummins turbodiesel as an option that puts out 310 hp and 555 lb-ft of torque.
Buyers shopping for a base trim level that still offers some comfort goodies will find the Titan XD's S trim does just that. It comes standard with cloth upholstery, a six-speaker audio system, Bluetooth connectivity with audio streaming, keyless entry, 18-inch steel wheels, a 5-inch color screen, and a USB port. The Silverado's base WT trim can't come close to this. Moving up the range, the Titan's higher trims also have more premium features than the Silverado's top trims.
Buyers, particularly those who do heavy lifting with their pickup, will appreciate the Titan's chunky buttons and knobs, as they can operate them with ease while wearing gloves.
The Titan regular cab's bed is also longer than the Silverado regular cab: 98.5 inches to 97.7 inches.
What the Silverado 1500 Gets Right
The Silverado's crew-cab models offer a bit more leg room for second-row passengers when compared to the Titan: 40.9 inches to 40.4 inches. What's more, the base WT trim is about as sparsely equipped as a 2017 vehicle can be, making it a better option than the more posh Titan S for buyers looking to do serious dirty work.
While the Silverado's lower-tier engines cannot hang with the Titan, its 6.2-liter V8, which produces 420 hp and 460 lb-ft of torque, easily stuffs the Titan's 5.6-liter in its lunch pail. This V8 powerplant also contributes to the Silverado 1500's superior 12,500-pound towing capacity (only available with the two-wheel-drive Double Cab or Crew Cab). Additionally, with the Silverado returning up to 20 miles per gallon combined from its V6 and eAssist V8 powertrains, it easily bests the Titan XD's up to 18 mpg combined.
The Silverado also has a slew of available cab and bed combinations, while the each of the Titan XD's cab options has only one bed configuration. This allows buyers to fine-tune their pickups to meet their needs.
Close, but Not Quite There
Despite its bigger size, the Titan XD pulls closer to America's three home-grown trucks: the Ford F-150, Silverado, and Ram 1500. However, its shortcomings, like surprisingly limited towing capacity and few cab-and-bed configurations compared to the Silverado 1500 are just too much to overcome or most truck buyers.
Verdict: Chevrolet Silverado 1500
The Silverado pulls off the win when lined up next to the Titan XD, thanks to its superior range-topping powertrain, towing capacity, and number of cab-and-bed configurations.
Take a closer look at the Nissan Titan XD »