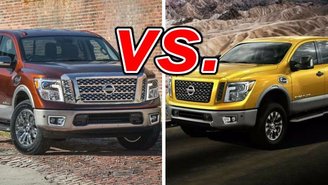 After ages with the same body and powertrain, Nissan finally redesigned the Titan in 2016. Initially, Nissan only offered the Titan XD, a heavier-duty pickup, but in 2017, it added the lighter-duty Titan to the lineup. Now with both models on the market, some buyers may wonder which is better for them.
We dive into both the Titan and the Titan XD to find out which is the better buy for the average shopper. Continue reading to learn more.
See a side-by-side comparison of the Titan & Titan XD »
What the Titan Gets Right
The Titan starts off a few grand lower than its larger counterpart, giving buyers a little extra cash to add some options. Additionally, its slightly smaller footprint makes maneuvering this pickup a little easier than its sibling.
The Titan's 5.6-liter V8 matches the power of the XD's base V8 at 390 horsepower. And with the Titan weighing less than the XD, this engine is better matched for daily driving.
Because the base Titan is not as work-focused as the XD, Nissan added a few extra standard features to it. These include a full-cloth interior, a damped tailgate with remote locking and unlocking, push-button ignition and a CD player with six speakers.
What the Titan XD Gets Right
The Titan XD, thanks to its stronger platform, can tow and haul a good bit more than the standard model.
Under its hood, the XD has the same V8 as the standard Titan, but it also has one optional engine: a 5-liter Cummins diesel with 310 horsepower and 555 pound-feet of torque at its disposal. With this engine, the Titan XD becomes a far more capable truck for towing and hauling, thanks to its low-end torque.
The XD is also primed for work in its base setup, thanks to its simple features, like vinyl and cloth upholstery, vinyl floor, air conditioning and a basic audio system. This makes it a great option for companies looking for a rugged pickup at a low price.
The XD Has a Niche Audience
The Titan XD is a good pickup, but it is not for mass consumption. Nissan tuned it for the less-common truck buyer who's looking for a pickup capable of handling heavy loads and that the owner won't mind dumping a ton of gravel. Sure, it has its more premium trims, but its volume will come from the base level work truck.
Verdict: Nissan Titan
For buyers who just want a pickup truck and aren't planning to haul huge loads around, the Titan is the better choice of the two. Its smaller footprint makes for an easier drive. What's more, its lower base price allows you to add more comfort features.
Take a closer look at the Nissan Titan »