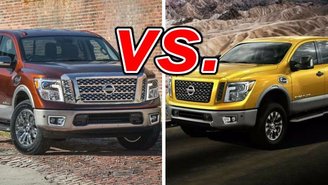 The Nissan Titan lineup underwent a much-needed redesign in 2016 with the reveal of the Titan XD. Then, one year later, the lighter-duty Titan arrived as a more commuter-focused pickup.
Both the Titan and the Titan XD have their fair share of pros and cons when compared to some of the American-made pickups, but how do they stack up to one another? We took a look at both to find out which one is the better buy.
Continue reading to find out which we recommend.
See a side-by-side comparison of the Titan & Titan XD »
What the Titan Gets Right
Being the lighter-duty Nissan pickup, the Titan is expectedly cheaper than the Titan XD, as it starts from $31,325 and the XD starts from $33,335 (destination fees included). This price gap allows buyers to add a few more options to the Titan and stay within budget. Buyers who don't need the added capacity of the Titan XD may also find the Titan's smaller footprint easier to maneuver.
Under its hood, the 390-horsepower 5.6-liter V8 is the same base engine as the Titan XD. This allows the Titan to pull up to 9,730 pounds, which is only 1,540 pounds less than the bulky XD.
What the Titan XD Gets Right
The Titan XD's higher ride height will immediately endear it to buyers who use their truck for work or take it off-road. The XD's heavy-duty appearance will also strike this crowd's fancy.
While the Titan XD does share its underpinnings and base engine with the smaller Titan, its exclusive optional engine is a dealmaker. This 5.0-liter V8 turbodiesel engine cranks out 310 hp and a stump-ripping 555 pound-feet of torque. With this diesel engine, the Titan XD's towing capacity reaches 12,310 pounds, beating its smaller sibling by 2,580 pounds.
Additionally, the Titan XD can carry more in its bed, as it's payload is 2,594 pounds – about 500 pounds more than the highest-rated Titan.
Hauling Big? Go XD
Having a heavy-duty pickup can bring bragging rights, but is out-towing your buddy's pickup really worth at least $2,000? Probably not. But if you need the extra towing capacity, the Titan XD is perfect for you – especially its diesel variant.
Verdict: Nissan Titan
In the world of pickups, there isn't much to write home about for either the Titan or the Titan XD. Both struggle to keep pace with the big boys from Chevy and Ford, but in a head-to-head competition, the Titan comes out as the more logical buy for the average truck buyer with its lower pricing and its smaller footprint.
Take a closer look at the Nissan Titan »