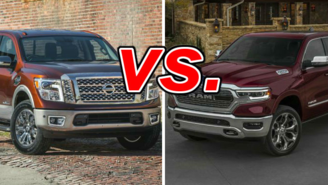 Full-size pickups are considered all-American fare, but Nissan has stayed very much in the game with its formidable Titan. It has all the right credentials for this class, including standard V8 power, off-road prowess, and luxurious trimmings for those who want them. The freshly redesigned RAM 1500 racks up far more sales and enjoys a loyal following that doesn't seriously consider other vehicles. Is the RAM's popularity a case of strong brand identity, or is it objectively better than the Titan?
See a side-by-side comparison of the 1500 & Titan »
What the Titan Gets Right
The Titan starts out with more comfort and infotainment features than other full-size pickups, so even the base model is easy to live with on a daily basis. The interior deftly avoids the industrial feel some buyers might expect (and dread). The environment in the top-shelf Platinum Reserve comes surprisingly close to a luxury SUV.
The Titan carries a 5.6-liter V8 engine with 390 horsepower and 394 pound-feet of torque, matched to a seven-speed automatic transmission. Towing capacity reaches 9,740 pounds. The EPA rates the Titan at a respectable 18 miles per gallon in combined city and highway driving, even when equipped with four-wheel drive.
What the RAM 1500 Gets Right
The RAM 1500 comes in a plethora of trims, from utilitarian to downright plush. Although it might look somewhat brutish, the 1500 is actually a gentleman among pickups. It handles well, rides smoothly, and is uncommonly refined on the inside. This year's redesign brings high-quality materials, clever storage cubbies, and indulgent options like a 19-speaker sound system.
The standard 3.6-liter V6 now comes with eTorque, a mild hybrid setup that earns EPA ratings of 22 mpg combined, or 21 mpg with four-wheel drive, a two mpg gain over last year. Output remains at 305 hp and 269 lb-ft of torque. Properly equipped, the V6 RAM 1500 can tow up to 7,750 pounds.
The available 5.7-liter V8 lays down 395 hp and 410 lb-ft of torque. Towing capacity has increased to an impressive 12,750 pounds. eTorque is optional on V8 models, where it boosts efficiency to 19 mpg combined, versus 17 mpg without it. An eight-speed automatic is used with both engines.
The Best of Both
Nissan offers buyers a lot of truck from the get-go, including a powerful V8 engine. The Titan is civilized on the inside, and yet tough enough to tackle the big jobs. Most buyers are already familiar with RAM 1500's fearless style and all-out capability. What might come as a surprise is how nicely it behaves on the road and toward its passengers.
Our Verdict: RAM 1500
The RAM 1500 performs like a champ without forgetting who the real boss is.
Take a closer look at the RAM 1500 »