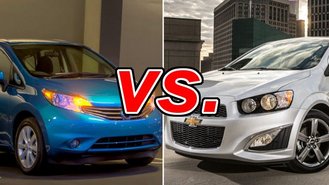 In a battle of the warm -- as opposed to hot -- hatchbacks, Nissan's Versa Note tries to ring a little louder than Chevrolet's Sonic blast.
A pair of practical hatchbacks that love to get you were you need to go using as little fuel as possible, the Versa Note and Sonic subcompacts provide reliable transportation for very little money. But does the Nissan have have what it takes to blow the doors off the Chevy?
See a side-by-side comparison of the Versa Note & Sonic »
What we like about the Nissan Versa Note:
With 109 horsepower and 107 pound-feet of torque, the Nissan's 1.6-liter engine wins the power battle. The little front wheel drive five-door employs either a manual or continuously variable transmission depending on trim level and options. Performance and handling are uninspired but the Versa Note is a reliable way to get where you need to go with excellent efficiency. Fuel economy is rated at 31 mpg city and 40 mpg highway.
What we like about the Chevrolet Sonic:
With a sporty look that is pretty easy on the eyes, the Sonic is a nimble subcompact that aims to please. Providing decent handling and even a little fun when you opt for the 138-horsepower 1.4-liter turbo attached to the six-speed manual transmission, the Sonic is a little car with unexpected spirit. Gas mileage is not quite up to the Versa's standards, though, at 27 mpg city and 34 mpg highway.
Winner: Chevrolet Sonic
If gas mileage is the only deciding factor, then go for the Nissan Versa Note. However, if you want a vehicle that will occasionally make you smile when you are driving, go for the Chevy Sonic. The Sonic's driving dynamic is certainly not that of a true hot hatchback, but it is still fun to drive and looks great while doing it. Going for the turbocharged engine and five-speed manual only ups the driving satisfaction.
Take a closer look at the Nissan Versa Note »