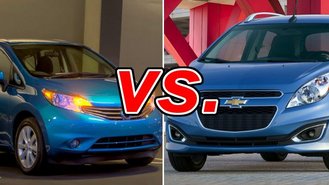 Two uniquely styled subcompact hatchbacks, the Nissan Versa Note and the Chevrolet Spark grab attention everywhere they go. While neither is blessed with dynamic performance, both provide excellent efficiency and MSRPs that won't break the bank.
Driving enthusiasts often run and hide when they see either one approaching, but the Nissan Versa Note and Chevrolet Spark will appeal to anyone who understands the value of a car that provides cheap and reliable transportation from point A to B.
In this battle of lightweight econo-hatchbacks, will Nissan's Versa Note extinguish Chevy's Spark?
See a side-by-side comparison of the Versa Note and Spark »
What we like about the Versa Note:
In most comparisons, the Versa Note's 109-horsepower 1.6-liter engine wouldn't have a significant advantage. Here, it does. A manual gearbox comes standard, and you can upgrade to a continuously variable automatic transmission (CVT). While performance and handling are uninspired, the Versa Note is an efficient way to get where you need to go with fuel economy ratings of 31 mpg city and 40 mpg highway.
It's worth noting that the backseat provides legitimate room for three passengers on short trips. Cargo space tops out at 38.3 cubic feet, which is nothing special, but it does beat the Spark's 27.2 cubic feet.
What we like about the Spark:
The Spark's 1.4-liter four-cylinder engine produces 98 horsepower and comes with a five-speed manual or continuously variable automatic transmission (CVT). The Spark delivers 34 mpg in combined driving with the manual and 35 mpg with the optional CVT. Acceleration is leisurely, but we did find the Spark more engaging to drive than the Note.
Interior fit and finish are cut above what we expected for the price. Everything feels screwed together well, and Chevy's high-tech MyLink infotainment interface comes standard.
Which has the edge?
Both cars get the economy part right in terms of price and operation. The Versa Note offers more interior room, while the Spark feels a tad sportier and much more refined inside.
Our Verdict: Chevrolet Spark
Despite its diminutive size, the Spark shows no obvious sign of cost-cutting.
Take a closer look at the Nissan Versa Note »