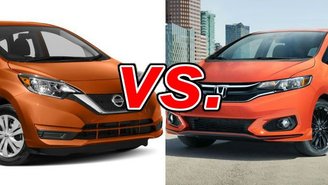 Despite the immense popularity of compact crossovers, the tried-and-true hatchback still has a place on the American scene. Some vehicles, it turns out, are simply too useful to go away.
The Honda Fit and Nissan Versa Note belong to that hardy group. Both offer efficiency and versatility at an economical price, so which is the smarter buy?
See a side-by-side comparison of the Versa Note & Fit »
What the Fit Gets Right
The Fit might have a petite footprint, but there's nothing tiny about it on the inside. With the rear seat folded, there's a mighty 53 cubic feet of flat load space — more than most small crossovers. What's more, the rear cushion flips backward, leaving a deep stowage well in the middle of vehicle for tall items that need to say upright. When there's nothing to carry, all that room makes for a comfortable environment for four adults.
The Fit carries a 1.5-liter four-cylinder engine that makes 130 horsepower and 114 lb-ft of torque. A six-speed manual transmission comes standard, but most buyers spring for the optional continuously available automatic, which returns an EPA-estimated 36 miles per gallon in combined city and highway driving (versus 31 mpg with the manual).
What the Versa Note Gets Right
If we had to pick just one reason to buy the Versa Note, it would be the spacious backseat. This may be cheapest and smallest Nissan model, but rear passengers will never know it. The Note can carry 18.8 cubic feet of cargo with a full crew aboard, or 38.3 cubic feet with the seat folded.
The 1.6-liter four-cylinder puts out 109 hp and 107 lb-ft of torque. All models come equipped with a CVT, a nice standard perk for this price class. Besides operating in near silence, the CVT helps the Note achieve 34 mpg in combined driving.
Is the Fit Worth It?
Comparably equipped, the Fit costs about $2,000 more than the Versa Note and offers more cargo space and slightly better performance and efficiency. But is that enough?
Our Verdict: Honda Fit
The Fit's unmatched versatility counts for a lot in this class.
Take a closer look at the Honda Fit »