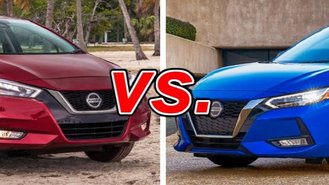 For 2020, Nissan updated two of its small sedans: the Nissan Versa and the Nissan Sentra. Both cars get a new look, more powerful engines, and more tech. While pricing for both has gone up, they're still relatively affordable for their respective segments and are ways for consumers to stay on a budget while getting many of the latest features.
Beyond having different price tags, different performance, and different sizes, there are a few things that separate these two from one another. Which one of these two cars is the better value option? That's what we'll answer below.
See a side-by-side comparison of the Versa & Sentra »
What the Versa Gets Right
The Versa gets an immediate edge over the Sentra when it comes to pricing. The Versa starts at $15,625 including destination, while the Sentra is priced at $20,015. The $4,390 difference between the two goes a long way, as consumers can get the range-topping Versa SR and still save $880 before encroaching onto the Sentra's base price. For consumers looking to get the most out of their budget, the Versa is the best option.
In addition to being the more affordable option, the Versa also saves you money at the gas pump. Thanks to its smaller engine, the Versa gets an EPA-estimated 35 miles per gallon combined with the available continuously variable transmission. The Sentra gets 33 mpg combined.
What the Sentra Gets Right
Neither the Versa nor the Sentra are known for performance, but the Sentra gets the nod in the power department. The Sentra is equipped with a 149-horsepower, 2.0-liter four-cylinder engine. The Versa's 1.6-liter four-cylinder is only good for 122 hp.
Thanks to its larger size, the Sentra offers more interior room than the Versa, especially for passengers in the back. The Sentra offers more rear legroom, rear hip room, rear shoulder room, and rear headroom than the smaller Versa. However, the Versa does offer 0.4 cubic feet more cargo space.
Need Something on a Budget?
The Versa's main selling point is just how much of a value-packed option it is. Despite having a price tag that's a lot lower than the Sentra's, the Versa still comes with a lot of modern features and can be fitted with even more stuff as optional. For its affordable price tag, the Versa gets you more for your money.
Our Verdict: Nissan Sentra
While the Nissan Versa is an excellent subcompact sedan, the Nissan Sentra wins this comparison for a few reasons. The Sentra has a more spacious interior and comes with a more powerful engine that makes it better suited for daily driving. It may cost more than the Versa, but for the majority of consumers, it's the better option.
Take a closer look at the Nissan Versa »