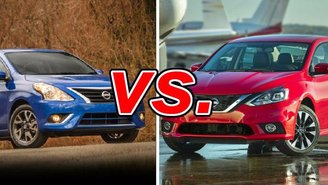 If you're looking for a brand new car but don't want to spend a lot of money, then it's only natural that you'd look to Nissan and entry-level offerings like Nissan's Versa and Sentra.
To say that you wouldn't be spending a lot of money isn't an understatement, either. The Versa is, quite literally, the cheapest car you can buy in the United States, with prices starting at $11,990 for the sedan. The Sentra isn't too far ahead at $15,990. So which offers more bang for the buck?
See a side-by-side comparison of the Versa & Sentra »
Advantage: Versa
The Versa can be purchased in two forms: the Note, which is a five-door hatchback, or as the aforementioned bargain-priced sedan. Both are equipped with a 109-horsepower 1.6-liter four-cylinder engine that is mated to either a five-speed manual or continuously variable transmission (CVT). Fuel economy is very good in either form, with the numbers showing 31 mpg city and 40 mpg highway when equipped with the CVT. Both come in three trims: base S, S Plus, and fully equipped SV.
Advantage: Sentra
While the Sentra's base price may exceed the Versa's by $4,000, it does offer quite a bit more in both drivetrain and amenities. All Sentras are powered by a 130-horsepower 1.8-liter four-cylinder engine, mated to either a six-speed manual or XTronic CVT transmission. The Sentra's fuel economy figures are pretty close to the Versa's, coming in at as high as 30 mpg city and 40 mpg highway. There are also some extra appointments available for the Sentra that the Versa doesn't offer like 16-inch wheels and LED-trimmed headlamps.
Is the Cheaper Sentra a Better Deal?
Either car make sense for the buyer who wants to pay as little as possible for a new car without sacrificing many of the standard features we've come to expect. The Versa is immensely practical, especially in hatchback form, but its price really isn't that much lower than a comparably equipped Sentra's.
Our Verdict: Nissan Sentra
The Sentra may not be the cheapest ride in America, but it's certainly a superior value among small cars.
Take a closer look at the Nissan Sentra »