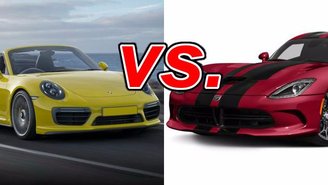 Porsche's signature sports car, the legendary 911 just keeps getting better. New turbocharged engines debut this year for even greater thrills, but rest assured the 911's classic design continues untouched.
Dodge's celebrated hyper-performance Viper is on it's last lap through showrooms. If you've always wanted to harness this outrageous V10 powerhouse, now is the time to do it.
Performance is a given with these two machines, but which is the better daily driver?
See a side-by-side comparison of the 911 & Viper »
What the Viper Gets Right
While the Viper has become more civilized over the years, it's still a raucous specimen by today's standards. The massive 8.4-liter V10 engine deliver 645 horsepower and 600 pound-feet of torque to the rear wheels, enough to take the Viper from zero to 60 mph in about 3.3 seconds. A six-speed manual is the only transmission offered.
Highway efficiency now stands at 21 mpg, which isn't a chief concern of the target market, but laudable in a car like this. All models get summer performance tires and a three-stage stability control system. Like most supercars, the Viper is strictly a two-seater, but the trunk measures just over 14 cubic feet, the same as some family sedans.
What the 911 Gets Right
One of the first things that any buyer will notice when shopping the 911 is the wide variety of trim options, from the entry-level Carrera to the range-topping Turbo S. On the outside, the Porsche 911 is an unmistakable icon that has evolved elegantly over the years. Inside, the 911 comes standard with all sorts of pleasing features, including full-grain leather seating, an Alcantara headliner, and a nine-speaker sound system.
This year's new 3-liter twin-turbo six-cylinder cranks out 370 horsepower in the Carrera, and 420 horsepower in the mid-level Carrera S. The 3-liter comes with your choice of a seven-speed manual or seven-speed automatic transmission. All-wheel drive is optional.
The Turbo model gets a 3.8-liter twin-turbo six-cylinder with 540 horsepower, or 580 horsepower when installed in the line-topping Turbo S. The Turbo and Turbo S are rear-drive only, and come standard with the seven-speed automatic. Either version will take you from zero to 60 mph in under 3 seconds.
Which Is Easier To Live With?
The brash Viper has been tamed somewhat. Its upscale interior is far more accommodating than those of past Vipers. But the 911 offers its performance in an altogether refined package that even works for commuters.

Our Verdict: Porsche 911
If you can only have one car, the 911 is the obvious choice here.
Take a closer look at the Porsche 911 >>