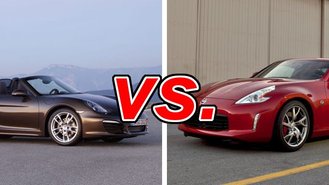 When Porsche introduced the Boxster back in 1996, it was designed to reward buyers with open air motoring and the world-class handling of a mid-engine layout.
See a side-by-side comparison of the Boxster & 370Z >>
The Boxster aims to continue this honorable tradition while also incorporating new technology and refinement. But are these changes enough to keep the Boxster ahead of rivals such as the Nissan 370Z? Or has the Boxster finally met its match?
What The Porsche Boxster Gets Right
A slightly reworked front end now features more elegant touches and curves while the rear fascia features new taillights that incorporate a love-it-or-hate-it spoiler in their lenses. The interior will look familiar to owners of older Boxsters, but welcome updates to ergonomics and materials enhance the driving experience.
Performance comes from a 2.7-liter flat-six that makes 265 horsepower or an optional 3.4-liter unit good for 315 horsepower.
Why Choose the Nissan 370Z Over The Porsche Boxster?
While the 370Z lacks the mid-engine layout found in the Boxster, it compensates with a lower price and refreshed styling. Many tweaks are found up front where the awkward looking fangs of the old car have been replaced with cleaner black accents; vertical LED daytime running lamps add a dash of upscale refinement.
The interior of the 370Z lacks the refinement found in the Porsche, but still does a good job of paying homage to its predecessors and rewarding drivers with a sporty atmosphere and supportive seats. Performance comes from a 332-horsepower 3.7-liter V6 mated to a six-speed manual or seven-speed automatic transmission.
Has the Porsche Boxster Lost Its Fun-to-Drive Character?
No -- but Porsche needs to be careful to not dilute the Boxster's formula to the point where it begins to drive away buyers who may prefer a sporty driving experience over extensive luxury.
Our Verdict: Porsche Boxster
The Boxster remains a stand-out in a segment filled with strong competitors.
Take a closer look at the Porsche Boxster >>