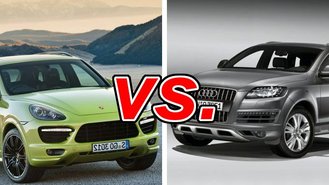 When the Porsche Cayenne debuted back in 2002, it was a lightning rod. Purists didn't think a Porsche badge belonged on the hood of an SUV. But it was an exceptionally good car -- and its sales success continues to generate development euros for the German automaker's sports cars.
See a side-by-side comparison of the Cayenne & Q7 »
The Cayenne shares a platform with the less flashy Audi Q7. But which is the stronger performance-oriented choice?
What The Porsche Cayenne Gets Right
Whereas its predecessor boasted rounded lines and a rather bloated rear end, the latest Cayenne features sharper lines and a more aggressive front end that does a much better job of communicating the Cayenne's high-performance intent. Design for the rear fascia is more subtle, but new taillights provide a pleasant touch of elegance. Buyers will also appreciate an interior that features supportive seats, excellent build quality and numerous convenience features.
And then there's an array of power plants -- gas, diesel and hybrid -- that offer performance ranging from good to staggering.
Why Buy The Audi Q7 Over The Cayenne?
The Q7 gives up some ground to the Cayenne in raw performance, but counters with third-row seating and extra cargo room the Porsche lacks. The Audi also boasts attractive exterior styling, and its interior is handsome and luxurious -- though the cramped third row isn't anywhere an adult would want to spend much time.
Like the Porsche, the Audi has a wide range of engine options -- though none that touch the extreme performance of high-spec Cayennes.
Is the Cayenne a Top Contender in the Luxury SUV Segment?
It depends on personal taste, and what you're looking for when choosing between the Cayenne, the Q7 or any other luxury SUV. Buyers who crave a more involved driving experience while still having the ability to haul kids and cargo will love the Cayenne. On the other hand, the Q7 offers more passenger room, a slightly longer wheelbase and more cargo capacity that may please those who need maximum versatility and are willing to sacrifice some performance to attain it.
Our Verdict: Porsche Cayenne
The Cayenne is simply too fun too drive -- unless you need to transport more than five people at a time, there's no contest.
Take a closer look at the Porsche Cayenne »