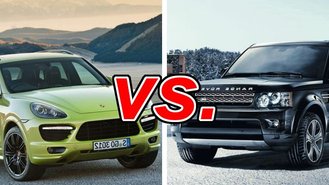 Both the Range Rover Sport and the Porsche Cayenne are relatively new additions to the luxury SUV market. They debuted in the mid-2000s with similar amenities and features -- to a point. Where these two vehicles diverge considerably is in their use. The Range Rover Sport is designed to handle rugged off-road adventures while the Cayenne is more of a city dweller.
See a side-by-side comparison of the Cayenne & Range Rover Sport >>
So how do these two compete against one another?
What the Porsche Cayenne Gets Right
The Cayenne is offered in six different trim levels including a diesel and hybrid. Most trim levels are differentiated by engine type, all of which are great choices. Predictably, they get more powerful and impressive as the price increases.
All Cayennes also come standard with all-wheel drive. No matter its engine, each Cayenne can tow over 7,100 pounds. We enjoy its refined interior design, although a multitude of buttons can overwhelm. Power front seats have up to 14 directional adjustments. The ride is extremely comfortable, and the Cayenne clings to the road even at high speeds. It also rides as smoothly as any SUV on the market today.
What the Range Rover Sport Gets Right
The Range Rover Sport only comes with two engine choices, both 5-liter V8s. The supercharged version of this engine is really impressive, cranking out 510 horsepower. The Range Rover tows 7,700 pounds and features full-time four-wheel drive.
The Range Rover handles the road with a smooth elegance not found in other vehicles designed for off-road use. Yet, it's off-road where this SUV shines. It can handle the planet's most rugged terrain. Despite these capabilities, though, the interior remains luxurious and comfortable.
How do They Compete Against One Another?
The Porsche is definitely a better vehicle on the road, but the Range Rover is no slouch -- it handles the pavement well. The Cayenne begins with a lower starting price, but options are expensive and can quickly surpass $100,000.
Range Rover interior design is elegant and comfortable, though storage space and rear legroom are limited. The Cayenne gets better gas mileage and offers a diesel and hybrid options.
Our Verdict: Porsche Cayenne
The Range Rover Sport is superb, but the Porsche Cayenne's performance orientation means it's better suited to the on-road environments buyers will likely encounter.
Take a closer look at the Porsche Cayenne >>