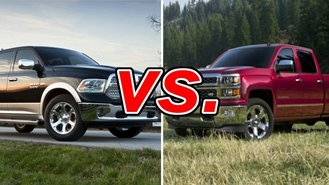 While taking turns receiving Truck of the Year awards, the RAM 1500 and Chevrolet Silverado 1500 have become American icons. Each offers the durability one would expect from a truck -- but in recent years, these pickups have also become known for their stylish good looks and luxurious appointments.
See a side-by-side comparison of the 1500 & Silverado 1500 »
The Silverado may have set the standard for American trucks many decades ago, but it's the RAM 1500 that's coming on strong in a very loyal market segment. But will it lure Silverado buyers away from Chevrolet?
What the RAM 1500 Gets Right
There is no denying the RAM 1500's exterior is menacing and powerful. An oversize grille makes the RAM 1500 the most recognizable truck on the road today.
In addition to its handsome fascia, this truck also offers the best fuel efficiency in its class, thanks to its optional 3-liter EcoDiesel V6 that puts up 29 mpg highway. What's more, its 3.6-liter V6 and 5.7-liter V8 trump the Silverado's 4.3-liter V6 and 5.3-liter V8 engines.
Although the RAM 1500 is available in nine different trim levels from standard utility to over-the-top luxury, an emphasis has been placed on fuel economy with an eight-speed TorqueFlite 8 transmission, a stop-start feature and active aerodynamics -- including grille shutters and an air suspension.
What the Chevrolet Silverado 1500 Gets Right
Chevrolet set the segment's standard when the Silverado was introduced as a trim package many decades ago. However, today's Silverado continues that legacy with a no-nonsense design as Chevrolet continues to highlight the truck's durability and capability.
A wide variety of engine options, including a potent 6.2-liter V8 with 420 horsepower, and trim levels mean many different configurations are available, and by offering two different interiors, Chevrolet can appeal to a wider audience of truck buyers.
The Silverado also leads its class in towing, as it can haul up to a whopping 11,900 pounds.
Chrysler is Changing the Standards With RAM
With a newly-designed frame, new engines and transmissions, new interiors and a commitment to a truck brand, Chrysler is setting a new standard for the industry and raising the bar for other manufacturers.
There is no doubt the Silverado is a capable truck that's proud of its utilitarian roots -- but with its current 1500, the RAM has become the truck people are talking about.
Our Verdict: RAM 1500
RAM engineers have changed almost every area of the 1500. With best-in-class ride and handling, and best-in-class aerodynamics, the Ram 1500 delivers unmatched content, performance and capability to truck buyers.
Take a closer look at the RAM 1500 »