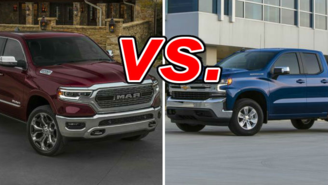 Fans of full-size trucks have two fresh designs to chose from this year, the Ram 1500 and Chevrolet Silverado 1500. Both pickups ride better and weigh less than their predecessors and offer intriguing engine options. Ram has set its sights on the no. two spot in pickup sales, a position that Chevy has comfortably held for decades. Which of these rivals goes further to impress buyers in the market for an all-American rig?
See a side-by-side comparison of the 1500 & Silverado 1500 »
What the Ram 1500 Gets Right
Despite its tough-guy image, the Ram 1500 is one of the most civilized truck we've ever driven. Buyers can be assured of a comfortable ride, fine maneuverability, and a pleasant interior that becomes downright indulgent in the higher trims. The Ram's class-exclusive air suspension not only soaks up road imperfections, but also enhances hauling capacity and off-road prowess.
The standard 3.6-liter V6 now comes with eTorque, a hybrid assist that helps the Ram 1500 achieve EPA ratings of 20 miles per gallon city, 25 mpg highway, and 22 combined. These figures are up by two mpg, but output is unchanged at 305 horsepower and 269 pound-feet of torque. (All ratings are about one mpg lower with four-wheel drive.) The V6 Ram has a towing capacity of 7,750 pounds.
Most models carry Ram's venerable 5.7-liter V8, which provides 395 hp and 410 lb-ft of torque. With the V8 thumping under the hood, Ram 1500 to pull up to 12,750 pounds. The eTorque setup is optional with this engine, resulting in EPA ratings of 17/23/19 mpg (city/highway/combined). Without eTorque, estimates decrease by two mpg. An eight-speed automatic transmission is now standard throughout the lineup.
What the Silverado 1500 Gets Right
The Chevrolet Silverado 1500 is longer and taller this year – and lighter as well. Chevy has shaved 450 pounds off the Silverado by using aluminum for the doors, hood, and tailgate. The suspension has been reworked to deliver a smother ride and more precise handling. Rear passengers get more leg room, and everyone enjoys a bump in head room.
As in previous years, the engine roster starts with a 4.3-liter V6 producing 285 hp and 305 lb-ft of torque, paired with a six-speed automatic transmission. The V6 can tow up to 6,000 pounds and is EPA-rated at 16/21/17 mpg. The popular 5.3-liter V8 returns with 355 hp and 383 lb-ft of torque, and a towing capacity of 11,600 pounds. It's standard on the higher trims and available everywhere else. Hooked to an eight-speed automatic, the V8 manages 17/24/19 mpg. Buyers get maximum pull (12,200 pounds) with the optional 6.2-liter V8, which lays down 420 hp and 460 lb-ft of torque, and comes with a 10-speed automatic transmission.
New this year is an available 2.7-liter turbocharged four-cylinder motor with 310 hp and 348 lb-ft of torque – the first four-cylinder ever offered in the Silverado. It allows the truck to tow up to 7,200 pounds and achieves EPA ratings of 20/23/21 mpg. Later this year, Chevy will introduce a 3.0-liter six-cylinder turbodiesel engine, which promises a fine balance of pulling power and efficiency (ratings aren't available yet).
Better Than Ever
The Ram and Chevy trucks have made significant strides in ride and road manners. They're just as capable as before, and yet more efficient. The Ram maintain its edge in towing and handling, while the Chevy boasts more room inside and brand-new engine technology.
Our Verdict: Ram 1500
The Ram 1500 handles with toughest jobs with ease while doing everything else right.
Take a closer look at the RAM 1500 »