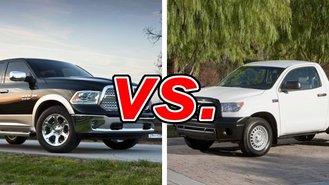 The Ram 1500 is a full-size pickup truck with a long history of customer satisfaction. Brand loyalty plays a huge role when truck buyers need to replace an aging vehicle; a fact that helps U.S. manufacturers in this segment stay at the top.
See a side-by-side comparison of the 1500 & Tundra >>
U.S. pickup truck makers also have a knack for providing exactly what their customers want and need. Outside competitors like the Toyota Tundra have had a very tough time breaking into the full-size pickup market in any significant numbers. But is brand loyalty the only thing holding them back?
What the Ram 1500 Gets Right
The Ram 1500 features modern technology in the form of an eight-speed transmission for the 3.6-liter V6 and 5.7-liter V8 engines. The Pentastar 3.6-liter V6 boasts 305 horsepower; an increase of more than 40 percent over the previous V6 engine.
A new air suspension system introduced in 2013 offers five height settings over a 4-inch span, allowing lower clearance for loading and unloading, as well as increased clearance for off-road obstacles. The system also automatically lowers the truck at highway speeds to decrease wind resistance and improve fuel economy.
What the Toyota Tundra Gets Right
The Tundra offers three body styles and three bed lengths, and the roominess of the rear seat in the CrewMax version gets rave reviews from passengers. The seats also recline for added comfort and fold down to maximize secure inside storage space.
The 310-horsepower 4.6-liter V8 provides enough power for most day-to-day uses, while keeping fuel economy at 17 mpg in combined driving; an acceptable level for the segment.
What the Tundra Needs to Step Up
Across the board, the Tundra's three engines don't deliver the same amount of power as the Ram 1500's engines. In addition, Toyota's designers need to improve the quality of the interior appointments to bring it up to the level of refinement found in the 1500.
Our Verdict: Ram 1500
American pick-up truck buyers want a vehicle that can haul, tow, and carry with ease, and the 1500 provides all of that, along with the added convenience and versatility of its air suspension system.
Take a closer look at the RAM 1500 >>