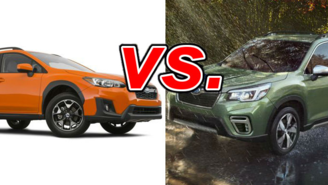 Crossovers are a natural fit for Subaru, the brand that pioneered efficient, all-wheel-drive passenger vehicles. The smallest of the lot is the Crosstrek, which is essentially a raised version of Impreza hatchback. The Forester is a step up in size and price, offering more space for families and their things. Is the Forester worth the extra room? Let's find out.
See a side-by-side comparison of the Crosstrek & Forester »
What the Crosstrek Gets Right
With its sophisticated all-wheel-drive system and 8.7 inches of ground clearance, the Crosstrek is more capable off road than most small crossovers. Remote campsites and dusty trails are no problem for the Crosstrek, and buyers can count on sure-footed performance on snow-covered streets.
The 2.0-liter four-cylinder engine produces 152 horsepower and 145 pound-feet of torque. The standard six-speed manual transmission is rare for this class, and some Subaru fans are sure to appreciate it. However, the available continuously variable transmission (CVT) provides more impressive efficiency. So equipped, the Crosstrek is EPA-rated at 27 miles per gallon city, 33 mpg highway, and 29 combined.
What the Forester Gets Right
The Forester has been redesigned for 2019 with a couple more inches of interior space in all directions. There's ample room for five passengers and 76.1 cubic inches of load space with the rear seat folded, which is impressive for the compact crossover class. The Crosstrek can only hold 20 cubic feet of cargo with the rear in use, or 55.3 cubes with it folded down.
The Forester carries a 2.5-liter four-cylinder good for 182 hp and 176 lb-ft of torque. The CVT comes standard. Compared to other vehicles its size, the Forester shines in efficiency. EPA estimates are 26/33/29 mpg (city/highway/combined).
What's the Big Difference?
The Crosstrek and Forester use the same all-wheel-drive system and have identical ground clearance. The Forester gets more power to compensation for its extra weight, so on-street performance is very similar. Both offer a fine blend of efficiency and utility. For about $3,000 more, the Forester gives buyers a more family-friendly interior and a few key features that are optional on the Crosstrek.
Our Verdict: Subaru Forester
The Subaru Forester provides additional utility without any loss in efficiency. For buyers who intend to fill up the inside of their crossover, it's clearly the better choice.
Take a closer look at the Subaru Crosstrek »