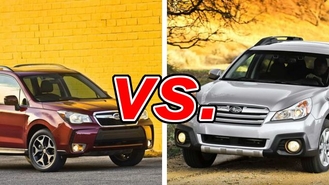 Perhaps no two models have meant as much to Subaru's market presence in North America than the Forester and the Outback. Each of their arrivals -- the Legacy-based Outback in 1994 and the Impreza-derived Forester in 1997 -- helped to introduce the crossover segment, and to develop it into the juggernaut it is today.
See a side-by-side comparison of the Forester & Outback »
It still makes sense to cross-shop the two models. Both have higher ground clearances than the smaller Impreza and both have ample room for passengers and their cargo. Both even have very respectable fuel economy figures, especially considering that they are full-time all-wheel drive vehicles. The Forester achieves 24 mpg city and 32 mpg highway, while the Outback does slightly better at up to 25 mpg city and 33 mpg highway.
Going Head-to-Head
While there are many similarities between the two, there are also things that set them apart. The Forester is, for instance, a few thousand dollars cheaper than the Outback. The price difference may not be much, but it does make a difference to buyers who are trying to get the most bang for their buck.
So why does the Outback cost more? To put it simply, it's a bigger vehicle. The Outback sports more volume in almost every comparable measurement, and this shows when you sit in both vehicles and compare them side by side. The Outback feels more spacious, especially in the back seat, which sports an impressive amount of shoulder space and legroom.
Don't get us wrong. This by no means discredits the space that the Forester provides. The new Forester has more room than the outgoing model, and it shows. Both share the same 2.5-liter boxer four-cylinder engine in their base and mid-range models, with the Forester also sporting a 2-liter turbocharged model, and the Outback a 3.6-liter boxer six-cylinder model.
Our Verdict: Subaru Forester
Both vehicles help active families live the outdoor lifestyle at accessible starting prices. Which you choose to buy is just as much a reflection of your personality as which tie or pair of shoes you put on in the morning. But if we have to decide between the two, we'll take the all-new Forester and its nimble drivability.
Take a closer look at the Subaru Forester »