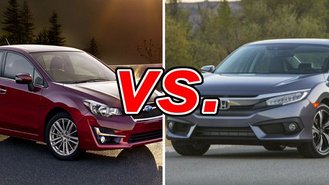 Compared to the hot-selling Honda Civic, the Subaru Impreza remains a bit of a recluse. The Impreza's second-tier image might be justified given its undistinguished history, but a complete redesign for the 2017 model hopes to change the lukewarm feelings for the Impreza.
The Civic, on the other hand, had a redesign of its own in 2016 and just gained a new hatchback variant. Along with the redesign came a step up to the midsize segment and new powertrains.
See a side-by-side comparison of the Impreza & Civic »
How well does the current Impreza hold up against a proven favorite like the Civic?
What the Impreza Gets Right
The Impreza gains a new look that, while familiar, gives this Subie a more refined appearance. With the redesign also comes a body that is 1 inch longer in sedan format and 1.6 inches longer as a hatchback—both models are 1.5 inches wider. This larger body results in a roomier cabin that will better compete with the Civic.
The new Impreza also gets a refined powertrain that includes a 152-horsepower 2-liter engine and a new CVT with a seven-speed manual mode. All-wheel drive is also standard, making the Impreza great for buyers in areas where things get slippery in the winter.
What the Civic Gets Right
The 10th generation Civic has arrived, and it is better than ever. With this new generation comes a new body that is sleeker than ever before and features a fastback-like rear end on the sedan and coupe for added sportiness. What's more, the body is larger than before, but advanced building materials make it significantly lighter than last generation's model and the Impreza.
The larger body also results in the Civic sedan being roomier than the Impreza sedan in many measurable categories. What's more, the new hatchback version of the Civic makes it competitive with the five-door Impreza.
The redesign of the Civic also brings in two new engines, a 2-liter and a 1.5-liter turbo. Both engines eat the Impreza's lunch, as the 2-liter comes punches out 158 horsepower while the 1.5-liter turbo injects 174 ponies in its base form or 180 horsepower in the hatchback's Sport Touring trim.
See more sedan comparisons here »
The Impreza Has its Place
In years past, the Civic's underwhelming base engines and ho-hum design gave the Subaru Impreza all it needed to overtake Japan's favorite child. Now, with its new look and powertrains that are finally competitive with the rest of the segment, the Impreza's only advantage over the Civic is its standard all-wheel drive.
Our Verdict: Honda Civic
With its new look and range of punchy engines, the Impreza had no chance against the 10th generation Civic.
Take a closer look at the Subaru Impreza »