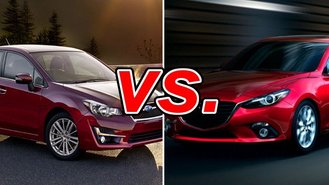 In the crowded compact car market, what makes one brand and model stand out over another? We can look to issues of fuel economy, reliability, and safety for an answer, but we suspect that the answer often lies in an emotional response to one vehicle over another. Both the Subaru Impreza and the Mazda Mazda3 have rolled out new generations recently (2012 for the Impreza; 2014 for the Mazda3), and the Impreza underwent a refresh in 2015. Over time, however, the Mazda3 has proven to be the more popular of the two. We wondered why.
See a side-by-side comparison of the Impreza & Mazda3 »
What the Subaru Impreza Gets Right
In small cars, every inch of interior space matters, and the Impreza has more of it than most other members of the class. Its rear seat is roomy with comfortable legroom for adults, and the hatchback provides maximum cargo capacity of more than 52 cubic feet, edging into the territory of some compact crossover SUVs. What's more, new noise-limiting materials make the Impreza's cabin quieter than ever before.
The Impreza is also the only compact car to offer all-wheel drive as standard, a feature that is particularly appreciated by buyers in areas with frequent snow and rain. What's more, its up to 37 mpg on the highway is unheard of with all-wheel drive.
What the Mazda Mazda3 Gets Right
The Mazda3 has a long-standing reputation as a car that is fun to drive. Its nimble and precise steering is now backed up by new suspension that gives the car a more refined ride over all kinds of roads. In addition, both available engines that deliver 155 and 184 horsepower receive up to a 41 mpg rating from the EPA.
Inside, the Mazda3 matches its driving attributes with a longer list of more upscale technology and convenience features than is found in many small cars. Mazda has added most of the recent advance in driver warning systems in an available option package along with an available regenerative braking system to boost fuel economy even further.
The Basis of Popularity
We think that the Mazda3 earns more sales primarily because it is fun and carries more of the newest features that cool car owners must have. The Impreza's all-wheel drive availability and roomy interior are solid -- but invisible -- attributes that lack a sense of fun.
Our Verdict: Mazda Mazda3
For many compact car buyers, the fun and sporty demeanor of the Mazda Mazda3 outdraws the practical but unexciting qualities of the Impreza.
Take a closer look at the Subaru Impreza »