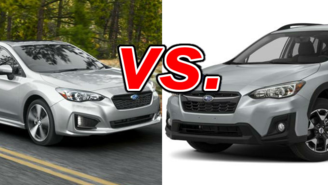 Subaru stylists deserve credit for making the Impreza and Crosstrek seem like totally different vehicles. Truth be known, they use the same platform, engine, and all-wheel-drive system. There's virtually no difference in features or technology, so which is the better overall vehicle?
See a side-by-side comparison of the Impreza & Crosstrek»
What the Impreza Gets Right
Although the Impreza comes with a sophisticated all-wheel-drive system, it's still a conventional passenger car – what everyone bought before crossovers flooded the market. The sedan version wins on style, while the hatchback is the choice for versatility. With up to 55.3 cubic feet of cargo space, the Impreza hatchback can hold its own against most wagons.
Every Impreza is powered a 2.0-liter four-cylinder engine that makes 152 horsepower and 145 pound-feet of torque. Some Subaru fans will appreciate the standard five-speed manual transmission, but there's good reason to spring for the optional continuously variable transmission (CVT). It allows the Impreza sedan to achieve an EPA-estimated 28 miles per gallon city, 38 mpg highway, and 32 combined; the hatchback is rated at 28/36/31 mpg (city/highway/combined). That's outstanding efficiency for a gas-powered car with all-wheel drive, to say nothing of the hatchback's cargo space.
What the Crosstrek Gets Right
To create the Crosstrek, Subaru took the Impreza hatchback and endowed it with rugged body cladding and 8.7 inches of ground clearance. The result is an attractive small crossover that can take passengers on off-road adventures, so long as things don't get too wild. Bragging rights aside, the Crosstrek offers all the capability that most buyers need.
The 2.0-liter engine does duty here, too, this time starting with a six-speed manual with the available CVT. As with the Impreza, the CVT is the choice for efficiency, delivering an EPA-rated 27/33/29 mpg. That isn't that far off of the Impreza considering the Crosstrek is larger and heavier.
What's the Difference?
Thanks to its lower weight, the Impreza holds an edge in efficiency and on-street performance, and the hatchback can carry just as much as the Crosstrek. Of course, the Crosstrek can go lots of places that the Impreza can't. When outdoor recreation is on the schedule, the Crosstrek proves a worthy companion.
Our Verdict: Subaru Impreza
The Impreza is Subaru's poster car for mass appeal, giving it the edge over the Crosstrek.
Take a closer look at the Subaru Impreza »