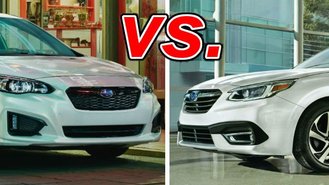 The compact Subaru Impreza continues as the least expensive all-wheel-drive vehicle on the market. As tempting as that sounds, the case isn't closed. Subaru also offers the freshly redesigned Legacy, an all-weather midsize sedan with a comfy interior and available turbocharged engine. But is the Legacy worth the extra cost when the Impreza is just as capable?
See a side-by-side comparison of the Impreza & Legacy »
What the Impreza Gets Right
The Subaru Impreza is available as a sedan or a hatchback, both with standard all-wheel drive and the same safety technology as the Legacy. Hatchback versions can handle up to 55.3 cubic feet of cargo, whereas the Legacy's conventional trunk holds just 15.1 cubic feet.
Despite its economy mission, the Impreza offers a full slate of reasonably priced options like leather seats, an 8-inch touchscreen with navigation, and a premium Harman Kardon audio system. No matter how heavily it's equipped, the Impreza never loses it value proposition.
What the Legacy Gets Right
The Legacy starts out with a 2.5-liter four-cylinder engine that makes 182 horsepower, 30 more than the Impreza's 2.0-liter four-cylinder. Despite the Legacy's extra power and passenger room, it's EPA-rated at 30 miles per gallon combined, just one mpg lower than the Impreza.
Buyers with a taste for performance can opt for a 2.4-liter turbocharged four-cylinder with 260 hp in the Legacy, enough to make it a decidedly quick family sedan.
On the luxury side, the Legacy is eligible for a host of goodies that aren't available on the Impreza, including ventilated front seats and premium Nappa leather upholstery. We especially like the Legacy's 11.6-inch vertically-oriented touchscreen, which would look at home in luxury car.
How Much of a Good Thing?
The Subaru Impreza is clearly a lot of car for the money, especially in hatchback form. What it may lack in power and luxury can be found in the Subaru Legacy, depending on how high you're willing to go on price.
Our Verdict: Subaru Impreza
You can build out the Subaru Impreza how you want without worrying about spending too much.
Take a closer look at the Subaru Impreza »