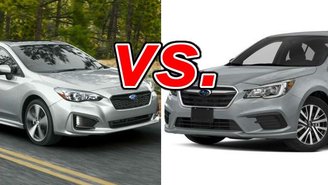 Subaru enjoys a loyal following that keeps customers returning to the brand when life calls for a new set of wheels. Buyers who start out with the compact Impreza often make the larger Legacy their next purchase.
But is the Legacy really a worthy upgrade, or should Subaru fans stick with the cheaper Impreza? Let's find out.
See a side-by-side comparison of the Impreza & Legacy »
What the Impreza Gets Right
The current Impreza hit the streets just last year, so it can match just about any compact in terms of safety technology and convenience features. But the real draw here is standard all-wheel drive, which has been the Impreza's main selling point for years. In addition to the sedan, Subaru offers a hatchback version with a wagon-like 55.3 cubic feet of cargo space.
Every Impreza gets a 2.0-liter four-cylinder engine with 152 horsepower and 145 pound-feet of torque. A six-speed manual transmission comes standard — a rarity on an AWD vehicle — and a continuously variable automatic transmission (CVT) is available across the board. With the CVT, the Impreza can deliver an EPA-estimated 32 miles per gallon in combined city and highway driving. That's exceptional efficiency for a gas-powered car with all-wheel drive.
What the Legacy Gets Right
The midsize Legacy receives an interior makeover this year and subtly updated styling on the outside. It's also a nicer place to spend the commute, thanks to ride-enhancing suspension tweaks and lowered noise levels. As with the Impreza, all-wheel drive is standard, but that's not the only reason to buy a Legacy. It's a capable family sedan in all respects, no matter the weather.
The standard 2.5-liter four-cylinder is good for 175 hp and 173 lb-ft of torque. Buyers can expect 29 mpg combined, according to the EPA. Top-trim models come with a 3.6-liter six-cylinder that generates 256 hp and 247 lb-ft or torque. Both engine are paired with a CVT.
The Best of Both
The Impreza offers impressive efficiency and all the latest thinking from Subaru. When there's cargo to haul, the hatchback version is just a functional as some small crossovers.
With its midsize dimensions and pleasing interior, the Legacy is more adept at transporting people. For buyers that expect to carry passengers on a regular basis, it's an accommodating choice.
Our Verdict: Subaru Impreza
When it comes to Subaru for the dollar, the Impreza leads the lineup.
Take a closer look at the Subaru Impreza »