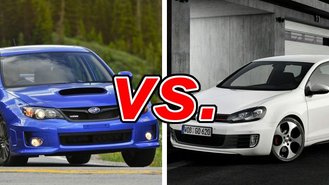 By virtue of their modest weight, compacts enjoy an inherent advantage when it comes to performance. That said, fuel economy rules the day in this class, so we seldom see a small car that lives up to its go-fast potential.
See a side-by-side comparison of the Impreza WRX & GTI >>

There are some pleasant exceptions of course, like the Subaru Impreza WRX and Volkswagen GTI. While both are based on conventional compacts, their upgraded engines and sport-tuned suspensions deliver gratifying performance for the price.
Which does more to earn its pocket-rocket status?
Where the Impreza WRX Gets It Right
The WRX starts with standard all-wheel drive and performance-spec suspension components for stellar high-speed handling. Power comes from a turbocharged 2.5-liter four-cylinder coupled to a five-speed manual transmission. With 265 horsepower at its disposal, the WRX scoots from zero to 60 mph in 5.3 seconds, the fastest time in this price class.
For those with a serious power fetish, Subaru offers the STI version of the WRX with 305 horsepower and a six-speed manual. The STI achieves zero to 60 mph in just 4.5 seconds, which puts it close to supercar territory.
Where the GTI Gets It Right
Interestingly enough, the GTI earns its highest marks for interior refinement. The construction and materials are first-rate, well beyond what most people would expect in this price range. Add to that its composed ride and hushed operation, and you have what feels like an entry-level luxury car.
For performance, the GTI carries a turbocharged 2-liter four cylinder with 200 horsepower matched to a six-speed manual transmission or a six-speed automatic with a manual shifting feature. While the GTI is far more efficient than the WRX, it needs 7.3 seconds to make it to 60 mph.
What It All Means
The sophisticated GTI is rewarding to drive and a pleasant place to hang out in on a daily basis. Sheer performance is the mission of the WRX, as evidenced by its blistering acceleration and comparatively austere packaging.
Our Verdict: Subaru Impreza WRX
When affordable performance is the only goal, the Subaru has no equal.
Take a closer look at the Subaru Impreza WRX >>