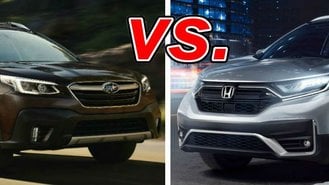 The Subaru Outback has been totally redesigned for the 2020 mode year, with emphasis on safety and technology. It's sure to be a hit with Subaru fans and create some converts as well. The Honda CR-V is as mainstream as compact crossovers get, providing the features most buyers want in a roomy and efficient package. But does the latest Outback threaten the CR-V's popularity in this league?
See a side-by-side comparison of the Outback & CR-V »
What the Outback Gets Right
The Outback is better equipped than most competitors to leave the road when the mood strikes. Subaru's capable all-wheel-drive system comes standard, along with 8.7 inches of ground clearance, which makes the Outback fit for moderate off-road duty. AWD costs $1,500 extra on the CR-V, and the system is designed for all-weather traction on paved roads. There are places the Outback can go that the CR-V can't.
The Outback's newly optional 2.4-liter turbocharged engine provides eye-opening performance for this class. With its 260 horsepower under the hood, the Outback can outrun some luxury crossovers costing thousands more. There's no engine upgrade for the CR-V; all versions get a 190-hp, 1.5-liter turbo-four. Buyers who want a few thrills with their utility will have to look elsewhere.
The dominant interior feature of the new Outback is its 11.6-inch vertically-oriented touchscreen. Standard on all but the base model, the colorful interface looks and works like it belongs on a high-end vehicle.
What the CR-V Gets Right
The Honda CR-V sits at the top of its class when it comes to handling people and things. The interior has been carefully packaged to make use of every available inch. Rear hip and legroom are unmatched, and there's still 39.2 cubic feet left over for cargo, versus 32.5 cubic feet in the Subaru.
There's more to comfort than sheer space, and the CR-V excels there too. The supple suspension delivers a relaxing ride, and road and wind noise have been all but engineered out of the cabin. For smooth, quiet running over long distances, buyers will have to spend a lot more to best the CR-V.
Which Personality Fits?
The Subaru Outback aims a few degrees off the beaten path, which explains its appeal to certain buyers. It bridges the gap between practicality and individuality, functioning as a family hauler one day, and a lifestyle vehicle the next. The Honda CR-V goes all out to please the masses and succeeds like crazy. Some may find that approach too conformist, even if it results in the ideal family car.
Our Verdict: Honda CR-V
The Honda CR-V represents the total package of virtues that buyers seek in this class.
Take a closer look at the Ford Escape »