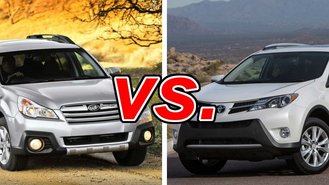 The definition of "SUV" has been shape-shifting to fit the times since its inception many years ago. Today, you'll find that the trend of large, hulking vehicles has made way for smaller crossovers such as the Subaru Outback and the Toyota RAV4.
Take a closer look at the Outback & RAV4 »
Both have the pedigree and the experience to be be outstanding sport utilities, but will the Subaru's roots as a station wagon hold it back?
What the Subaru Outback Gets Right
The Subaru Outback is available in four trims with two engines, depending on the model you choose: a 175-horsepower 2.5-liter boxer four-cylinder or a 256-horsepower 3.6-liter boxer six. A continuously variable transmission (CVT) is standard on all models. As always, all Outbacks feature all-wheel drive.
Subaru styling is always love-it-or-leave-it, and the Outback is no exception. But the build quality is excellent and the interior is very spacious -- especially the huge amount of legroom you get in the back seat. There's also a liberal 36 cubic feet of cargo space in the back, or 73 total with the seats folded down.
What the Toyota RAV4 Gets Right
The RAV4 is available in three trim levels -- all are powered by the same 176-horsepower 2.5-liter four-cylinder engine. Power is transferred to the front wheels or all four (depending on the model you choose) through a six-speed automatic transmission.
Fuel economy for the front-wheel drive model is essentially the same as the Outback at 24 mpg city and 31 mpg highway. As with the Subaru, exterior styling is a matter of taste, but the interior is well-equipped and spacious. There's plenty of headroom and a large space for cargo behind the back seat.
Does the Subaru Suffer From Station Wagon Syndrome?
Despite its roots as a station wagon, the Subaru is very capable with a fantastic all-wheel drive system and enough ground clearance to be trail-worthy. Long story short, this isn't an ordinary, everyday station wagon.
Our Verdict: Subaru Outback
We choose the Subaru due to the combination of its superior interior, fantastic six-cylinder engine and standard all-wheel drive system.
Take a closer look at the Subaru Outback »