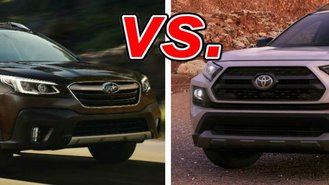 The all-new-for-2020 Subaru Outback gives the brand's loyalists even more to love, including expanded safety technology and an optional turbocharged engine. The Toyota RAV4 received a redesign of its own in 2019, boosting both style and performance. Which of these reinvigorated crossovers does more to impress us?
See a side-by-side comparison of the Outback & RAV4 »
What the Outback Gets Right
The Outback continues as the go-to crossover for the outdoorsy set. Its rugged styling, ample ground clearance, and standard all-wheel drive make it a fine companion for weekend adventures and road trips off the beaten path. While the RAV4 rides as high as the Outback, all-wheel drive is optional and can't match the Subaru's system for sheer traction in the wild.
Cargo space, one of the most important measures of a crossover, falls in the Outback's favor. With the rear seat folded, buyers get 75.7 cubic feet of it in the Outback, versus 69.8 in the RAV4.
The optional 260-horsepower, 2.4-liter turbocharged four-cylinder transforms the Outback into an enthusiastic performers on the road. Few crossover in this class are as quick as the turbocharged Outback.
What the RAV4 Gets Right
While the RAV4 doesn't offer an engine upgrade, its 2.5-liter four-cylinder produces 203 hp, compared to 182 hp from the Outback's base engine. For buyers who want all the miles per gallon they can get, there's a hybrid version of the RAV4 rated at 40 miles per gallon combined, according to the EPA.
The RAV4 may look kind of tough on the outside, but it's gentle on passengers. Effective sound deadening and a comfort-tuned suspension result in a pleasant cruising experience, even when roads are less than perfect.
Best of Both
The Subaru Outback is easy to like for its utility and offbeat charm. The Toyota RAV4 counters with superior comfort and quality on this inside. The decision, then, boils down to which attributes matter more to you.
Our Verdict: Subaru Outback
The Subaru Outback offers just enough capability and personality to stand out from the crowd.
Take a closer look at the Subaru Outback »