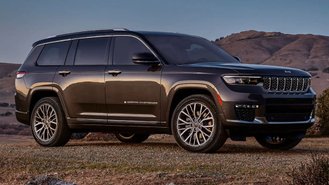 The Jeep Grand Cherokee and Wagoneer are two very familiar names for the Jeep brand, however, they have each been recently redesigned and set a new path with improved on-road dynamics, technology, and space. The Wagoneer is more than just a plus-sized Grand Cherokee although there are plenty of similarities that are cause for a closer look. Which of these two is better for your needs? Here's what you need to know based on our latest SUV comparison.
Grand Cherokee vs. Wagoneer Price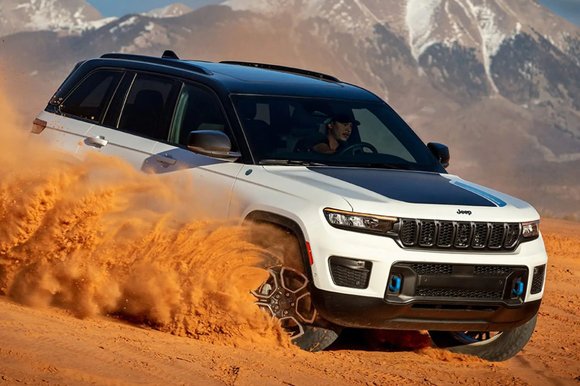 The Grand Cherokee offers a less expensive way into the Jeep family, however, it's also less vehicle. The Wagoneer's $60,995 starting price, versus the Grand Cherokee's $40,795, is significant and not everyone will equate Wagoneer's additional size and features with the same value.
The Grand Cherokee 4xe can push into the mid $80,000's while the Grand Wagoneer L can approach $120,000 - meaning there are a lot of options and configurations to cover the spectrum.
All 2022 model-year Grand Cherokees have sold out while there are still 2022-year Wagoneers available. Neither is offered with a good lease deal.
Grand Cherokee L vs. Wagoneer Size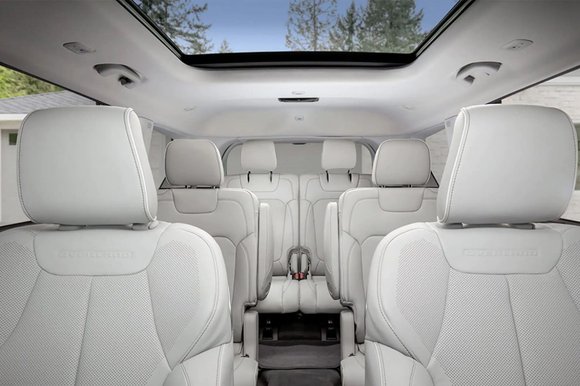 The Grand Cherokee offers an extended L version that is 11 inches longer (205 inches) than the standard model to facilitate a third row, however, it's still not as large as the standard Wagoneer which stretches to nearly 215 inches. The Wagoneer also sits nearly six inches wider at 83.6 inches.
Looking inside is a similar story with the Wagoneer providing significantly more space. The second row of the Grand Cherokee L offers 39.4 inches of legroom, which is down more than three inches to the Wagoneer while its third row measures 30.3 inches - down more than six inches while headroom is also notably less. More than just measurements, the design of the third-row seat of the Wagoneer makes it a reasonable space for adults to spend an extended amount of time.
Grand Cherokee vs. Wagoneer Performance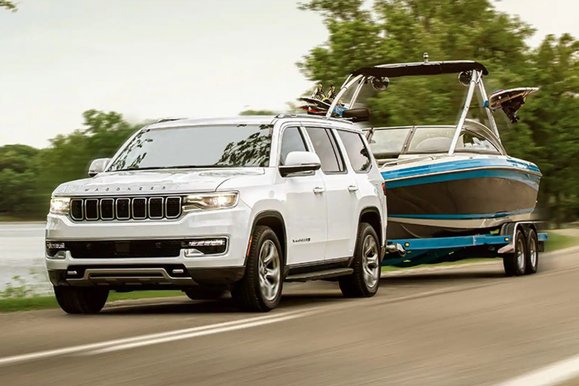 The Grand Cherokee offers more breadth of powertrain options. Its standard V6 is a good balance between fuel efficiency, power, and cost while the V8 offers better performance but it comes with a steep compromise to fuel efficiency. The most advanced powertrain is a plug-in hybrid system that offers a meaningful EV range (25 miles) and very strong acceleration from the turbocharged four-cylinder, however, this do-it-all approach is significantly more expensive upfront.
The Wagoneer is standard with a familiar V8 that features a motor to extend the engine-off range and provides a little bit of boost off the line while an optional brand-new turbocharged inline six-cylinder turbocharged engine delivers more power and improved fuel efficiency. A larger V8 is available in the Grand Wagoneer but it is eclipsed by the performance of the high-output version of the turbocharged six.
Towing performance is dominated by the Wagoneer which can pull an impressive 10,000 pounds compared to 7,200 pounds with the V8 Grand Cherokee.
Model
Engine
Horsepower / Torque
Fuel Efficiency (Combined EPA)
Grand Cherokee
3.6-l V6
293 / 257
21
Grand Cherokee
5.7-l V8
357 / 390
17
Grand Cherokee
2.0-l I4 Turbocharged
375 / 470
56 MPGe
Wagoneer
5.7-l V8 with electrification
392 / 404
17
Wagoneer
3.0-l I6 Turbocharged
420 / 470

510 / 500 (Grand Wagoneer)
19 (est.)

17 (Grand Wagoneer)
Wagoneer
6.4-l V8
470 / 455 (Grand Wagoneer)
15
Grand Cherokee vs. Wagoneer Cargo Space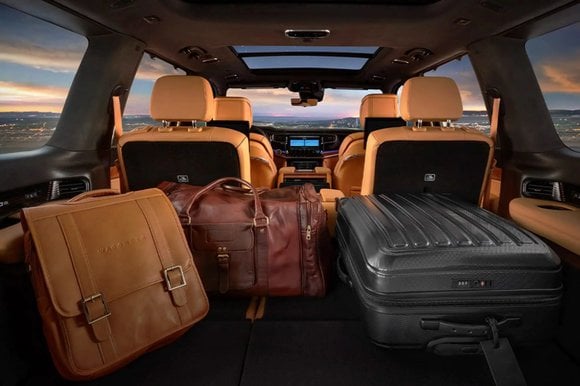 The Wagoneer's large exterior translates into a spacious cargo area with 27.4 cubic feet behind the third tow and 70.8 cubic feet with the third-row seat folded. That value matches the two-row Grand Cherokee's maximum cargo volume with its rear seat folded - there are 37.7 cubic feet behind the second row.
Folding the Wagoneer's second row increases cargo volume to 116.7 cubic feet. For those looking for just a little bit more space, whether in the Grand Cherokee or Wagoneer, their respective long-wheelbase L models take maximum cargo capacities to 84.6 cubic feet and 130.9 cubic feet, respectively.
Wagoneer vs. Grand Cherokee: Which Jeep Is Better?
The Wagoneer and Grand Cherokee offer distinct-enough packages to prevent an unwelcome amount of cross-shopping. The Grand Cherokee offers more flavors with its various trim levels and powertrains that may be better suited to customers' specific demands and its smaller size makes it more manageable in everyday use.
The Wagoneer provides a welcome alternative for those looking to stay within the Jeep family but need an adult-friendly third row, a hockey team's worth of cargo space, or increased towing performance for the horse show circuit.