With the 2022 Wagoneer, Jeep has resurrected an old nameplate and revitalized its presence in the full-size SUV segment. The Wagoneer sits above Jeep's midsize SUV, the Grand Cherokee. The Grand Cherokee L is a new 3-row variant of the SUV that's essentially a completely different vehicle.
The two SUVs are different sizes, but they appeal to a similar set of buyers. Does the Wagoneer have what it takes to win over shoppers? Here's a brief comparison of some of the key similarities and differences to help you make an informed decision if you're deciding which one is worth the money.
What the Jeep Grand Cherokee Gets Right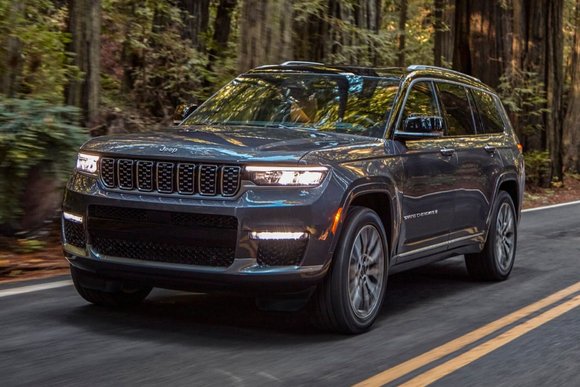 As the smaller of the two vehicles, the Grand Cherokee is cheaper. In this case, much cheaper — the Grand Cherokee L (pictured) costs about $30,000 less in base trim.
While the Wagoneer is a traditional body-on-frame SUV, the Grand Cherokee uses a unibody construction. As a result, it's lighter and has better road manners.
Thanks to its lighter weight and smaller base engine, the Grand Cherokee is also more efficient. The EPA estimates that the Grand Cherokee will do up to 21 mpg combined. The Wagoneer maxes out at 18 mpg combined.
Read Our Overview of the Jeep Grand Cherokee
What the Jeep Wagoneer Gets Right
The Wagoneer's greatest attributes are space and comfort. Second-row passengers have more than four inches of extra legroom over the Grand Cherokee. The Grand Cherokee L is available with a third row, but it's down more than six inches of legroom compared to the Wagoneer. With all the seats folded, the Wagoneer has 116.7 cubic feet of cargo capacity, compared to the Grand Cherokee's 84.6
The Grand Cherokee starts with a V-6 engine, while the Wagoneer comes with a V-8 in all trims. Even against the Grand Cherokee's optional V-8, the Wagoneer has a power advantage. The Wagoneer can tow up to 10,000 pounds, while the Grand Cherokee is limited to 7,200.
The Wagoneer is an all-new vehicle, which means that it has newer tech and rides on an updated platform. The current Grand Cherokee is nearly a decade old, though it's due to be replaced shortly.
Read Our Overview of the Jeep Wagoneer
A Worthy Challenger
The Wagoneer has made a strong impression. Its capable powertrains and spacious interior make it a worthy competitor to established three-row SUVs.
If value is a priority, the Grand Cherokee L offers three-row functionality at a fraction of the price. The platform is showing its age, however, and in most respects the Wagoneer is a superior SUV.
Our Verdict
This victory is deserved, but precarious. Next year brings an all-new Grand Cherokee, which will be cheaper than the Wagoneer and may include hybrid or electric powertrain options. We'll update our comparisons when it lands. Until then, the Wagoneer reigns supreme.
Compare Side-By-Side: Jeep Grand Cherokee vs. Jeep Wagoneer »