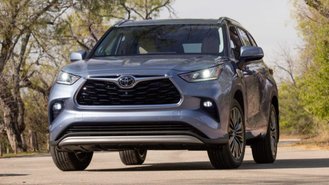 In the world of three-row SUVs, few can challenge the mighty Toyota Highlander. Toyota's family hauler consistently ranks among the bestselling models in the country. The all-new 2022 Nissan Pathfinder is out to change that.
Should the Highlander be worried? Here's a quick comparison of key specs and features to help you make an informed decision if you're deciding which one to buy.
What the Nissan Pathfinder Gets Right
The Pathfinder's greatest weapon in this fight is its price, which starts well below the Highlander's. After destination fees, the Pathfinder is nearly $2,000 cheaper.
The Pathfinder is only available with a single V-6 powertrain, but it's a reliable unit. The V-6's 284 horsepower allows the Pathfinder to tow up to 6,000 pounds — 1,000 more than the Highlander.
The latest Pathfinder update brings a fresh exterior, and we like the look. The Highlander isn't ugly, but we think the Pathfinder is easier on the eyes. Nissan's infotainment system is among the best on the market, and it looks good on the Pathfinder's generous screen space.
Read Our Overview of the Nissan Pathfinder
What the Toyota Highlander Gets Right
The Highlander is almost exactly the same size as the Pathfinder, but it squeezes more inside. Second-row passengers get 41 inches of legroom, which is nearly six inches more than you'll find in a Pathfinder. The Highlander's cargo capacity is larger, too.
Unlike the Pathfinder, the Highlander is available with multiple powertrains. The upgrade pick is the Highlander Hybrid, which earns an astonishing EPA rating of 35 mpg combined. It's the most efficient three-row SUV on the market, and it isn't close.
Finally, the Highlander comes with better standard safety features. Toyota includes active lane control and adaptive cruise control, both of which are optional on the Pathfinder.
Read Our Overview of the Toyota Highlander
Taking on a Titan
This Pathfinder is an improvement. The new exterior is good, and we're glad that Nissan has ditched the CVT in favor of a nine-speed automatic.
But the Highlander is a classic for a reason, and it holds the edge in the most important categories. Unless you absolutely need the extra towing capacity, the Highlander's extra space is worth the minor price jump. If you can spend up to the hybrid, all the better.
Our Verdict
The latest Pathfinder isn't bad, but it isn't good enough to topple the king. The Highlander is safer, more spacious, and much more efficient in hybrid form. For most families, it remains a better buy.
Compare Side-By-Side: Nissan Pathfinder vs. Toyota Highlander »