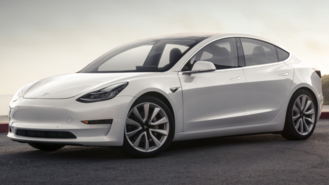 The Model 3 and the Model Y form the affordable half of Tesla's 'S3XY' EV model lineup. The Model 3 is Tesla's smaller sedan, while the Model Y is a compact crossover SUV.
Both offer all-electric efficiency and dollops of tech. So which is the better buy? Here's a brief comparison of key specs and features to help you decide which one is worth the money.
See a side-by-side comparison of the Tesla Model 3 & Model Y »
What the Model 3 Gets Right
The Model 3 is lower and slightly shorter than the Model Y, and it's also substantially cheaper. In equivalent trim, the Model 3 costs $3,500-$4,000 less. Currently, the Model Y isn't available in a Standard Range trim, which means that the Model 3 has a much lower starting price.
Both models offer multiple battery sizes, but the Model 3 gets the most range out of each. In Long Range form, the Model 3 boasts 353 miles of range to the Model Y's 326.
If performance is a priority, the Model 3 comes out ahead. It's lighter than the Model Y and its center of gravity is lower, which provides improved handling. The Model 3 Performance trim has a dedicated Track Mode, which the Model Y lacks.
What the Model Y Gets Right
The Model Y's biggest advantage is its hatchback body, which opens up 68 cubic feet of cargo capacity. Although the seats in the Model 3 also fold down, the Model Y's wider opening makes it easier to load large items. The Model Y even offers a third row, although it's tiny and we wouldn't recommend adding it.
Second-row passengers do benefit from extra space. The second row of the Model 3 offers only 35.2 inches of leg room, while rear passengers in the Model Y enjoy 40.5.
Both models come with standard all-wheel drive, but the Model Y has 1.1 inches of extra ground clearance over the Model 3. Neither is an off-road warrior, but the Model Y is slightly more capable over rough terrain.
Same Treat, Different Flavors
Although these two models belong to different segments, they share nearly 70% of their parts. That means they also share many advantages (like stellar efficiency) and a few disadvantages (like inconsistent build quality).
The differences come down to size vs performance. The Model Y is slightly more practical thanks to its extra clearance and interior space. The Model 3 is smaller, but offers better performance and range at a better value.
Our Verdict: Tesla Model 3
There's no great loser here. These models are variations on a theme, and both serve their purpose well. We like the Model 3 for its affordability, especially while the Model Y lacks a true base model.
Take a closer look at the Tesla Model 3 »