When you're looking for an all-electric vehicle, Tesla certainly comes to mind as one of the big players in the space. However, more and more car companies are turning to the EV revolution, and Toyota's newest model, the bZ4X, is a prime example.
Both Tesla Model Y and Toyota bZ4X sit comfortably in the compact SUV space, but which one is better for you? Here's a comparison of bZ4X and Model Y prices, range, and specs to help you decide which EV to buy.
Toyota bZ4X vs. Tesla Model Y Price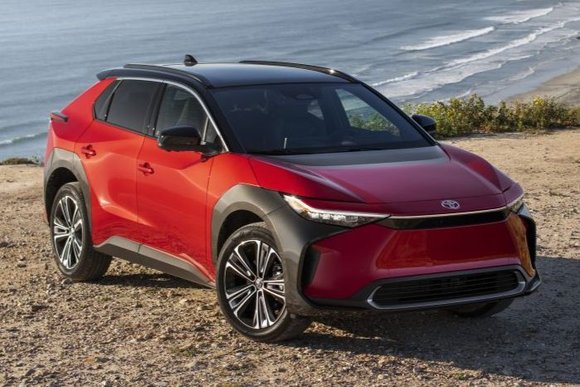 When you're comparing prices between the bZ4X and the Model Y, the Toyota makes more financial sense coming in a whopping $24,000 less than the Tesla. The starting MSRP for a Toyota bZ4X is $43,335 with destination, compared to $67,440 for the Tesla Model Y.
Both Toyota and Tesla fail to qualify for the federal EV tax credit, but the bZ4X remains eligible for state and local discounts such as the California Clean Vehicle Rebate (CVRP) and the California Clean Fuel Reward. With the two combined you're eligible for $2,750 off.
For the price, the bZ4X gives you ample room for five with an impressive list of safety features thanks to the Toyota Safety Sense suite. Every bZ4X features lane tracing assistance with departure alerts, pedestrian detection, dynamic radar cruise control, traffic sign recognition, blind spot monitoring, and cross-traffic alerts. It also comes with eight airbags, front and rear parking assist with automatic braking, and automatic high beams.
You also get a standard suite of connectivity including a 12.3-inch interface with smartphone compatibility, satellite radio, cloud navigation, and vehicle tracking for roadside assistance and theft purposes. After your first year of ownership, you'll need to get a subscription to keep all your services. There are five USB ports with both A and C connectors, and six speakers come standard. Qi-compatible device charging is also standard.
There are a few packages available for the bZ4X, but they only cost a few hundred dollars each, with the most expensive being a $580 premium audio system, though you must equip other packages to be eligible. Even if you add every package available, you'll never come close to the price you'd spend on a Tesla.
For its $67,440 price tag, every Tesla comes with a long list of standard safety features such as forward collision warning, pedestrian and cyclist detection, automatic emergency braking, lane departure warning, lane-keeping assist, rear cross-traffic alert, traffic sign recognition, blind-spot monitoring, parking sensors, automatic high beams, and Autopilot semi-autonomous driving. Also available is full self-driving capability, a $12,000 option – but we don't recommend diving in this deep.
Every Model Y has a 15-inch touchscreen which is the central hub for all the controls. It comes with a Wi-Fi hotspot, a 14-speaker audio system, four USB ports, a wireless charging pad, navigation, and Bluetooth.
Toyota bZ4X vs. Tesla Model Y Range
EPA estimated MPGe on the Toyota bZ4X varies by trim configuration, whether you choose FWD or AWD the base XLE in FWD gets an MPGe of 131 city / 107 highway. The bZ4X has an estimated range of 252 miles on a single charge of its 63.4-kWh battery. This is a bit low when you consider the competition these days.
If we're comparing the Toyota to the Tesla Model Y, there's no comparison when it comes to range. The Model Y gets an estimated 330 miles of range, no matter if you choose FWD or AWD. It gets a combined MPGe of 127 miles in AWD guise according to the EPA.
Toyota bZ4X vs. Tesla Model Y Specs
Toyota and Tesla models are both compact, but Tesla has a trick up their sleeve with this SUV capable of carrying seven. The bZ4X only has room for five.
Fiver-seater bZ4X is spacious, but not as spacious as the Model Y. It comes with just 27.7 cubic feet of cargo space behind the back seats, or less if you opt for the additional speakers and sound system. Folding the 60/40 split rear bench opens up your trunk space to 56.1 cubes, but the seats don't fold quite flat.
When it comes to seating there are 94 cubic feet of passenger room, and taller adults may feel it, especially in the headroom. The bZ4X only provides 38.6 inches of headroom in front and 37.1 inches in the back. Front passengers get quite a bit of legroom with 42.1 inches, but back passengers only get 35.3 inches.
The Model Y has passenger room for up to seven, with a 40-20-40 split second row and an optional third row. Both driver and passenger seats are heated with eight-way power and ample space. Front legroom is 41.8 inches while rear passengers get 40.5 inches of legroom. Headroom stands at 41 inches in the front, 39.4 inches in the back, and 34.6 inches in the third row. There's plenty of shoulder room too.
When it comes to cargo space the Tesla Model Y holds 30.2 cubic feet of cargo behind the rear seats, and 72.1 cubes with all rows folded. The Model Y's split third-row bench and individual folding seats in the second row allow for many cargo and passenger configurations that you won't be able to get in other compact SUVs.
bZ4X vs. Model Y: Which Is Better?
Which model electric vehicle is best for you is a matter of taste, need, and price. Both the Toyota bZ4X and the Tesla Model Y make great options for an environmentally friendly car.
You'll ultimately get more range out of the Tesla and will have many more options for carrying gear and people, including extra storage in the front trunk. All this comes with a really hefty price tag though, and you can't use your smartphone platform in the car since it comes with neither Android Auto nor Apple CarPlay.
For a much smaller price tag, the Toyota will get you where you need to go in comfort and style, with panoramic views from the glass roof. You'll have to stop and charge more frequently than other EVs, but the range should still be sufficient unless you drive to excess. There's plenty of space for people and gear, but you'll be lacking extra front storage and missing the glove box, though there are plenty of cubbies inside.
Choosing the right EV can be a bit easier when you have the inside scoop on the important points. Whether you choose the Toyota or Tesla is up to you. Check your local dealers for prices and information near you or check out the latest deals on bZ4X and Model Y on our site.