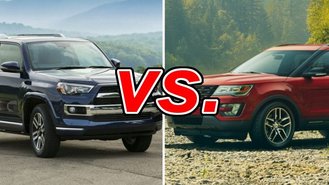 The Toyota 4Runner and Ford Explorer have been battling head-to-head ever since the Explorer first debuted for the 1991 model year. The Toyota had been around for a few years by that time, but the Explorer was an overnight hit that would prove to be one of the main catalysts in the SUV boom over the next twenty years.
See a side-by-side comparison of the 4Runner & Explorer »
It was easy to see why these new SUVs were so successful. They were large enough for the whole family, comfortable and capable off-road. Over the last few years, however, it seems that Ford and Toyota have sought to emphasize comfort and convenience over off-road prowess. The question is, does that really matter?
What the Toyota 4Runner Gets Right
The 4Runner may have gotten more urban outside, and more refined and tech-savvy inside, but underneath it all the Toyota remains a trail-fighter at heart. Powered by a 4-liter V6 making 270 horsepower and 278 pound-feet of torque, the Toyota has plenty of power to get you in -- and out -- of trouble on the back roads. The optional third row of seats gives buyers the ability to spread the off-roading smiles to more people, though its legroom is very tight at under 30 inches. The 4Runner's passenger compartment also opens up to reveal a huge cargo area that can hold nearly 90 cubic feet of stuff.
Should you choose the Trail model, its off-road prowess is further improved with features such as multi-terrain modes, a "Crawl Control" and a locking rear differential, which is crucial for any serious off-roader.
What the Ford Explorer Gets Right
Ford has taken a more urban-attack strategy than Toyota. Instead of keeping the trail-happy nature at the core of the refreshed Explorer, Ford has emphasized highway comfort and luxury at the expense of off-road capabilities. The interior is very well-equipped and modern. The Ford Sync hands-free system is one of the easiest to use on the market.
The Explorer comes with a choice of three engines: a 3.5-liter 290-horsepower V6; a turbocharged 2.3-liter EcoBoost inline-four making 280 horsepower; and a turbocharged 3.5-liter EcoBoost V6 that's good for 365 horsepower.
So Do They Really Need To Be Off-Road Capable?
While it's great to have a midsize SUV that's great off-road, the fact is, most buyers just want to know they can get to work on a snowy day and then come home again. They are more concerned about space and economy.
Winner: Ford Explorer
We chose the Ford Explorer because it best embodies the modern SUV: comfortable, reasonably efficient, spacious and good looking.
Take a closer look at the Toyota 4Runner »