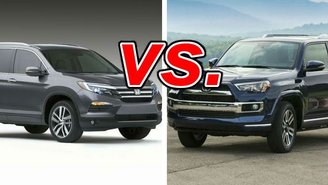 They both can transport the family, tow up to 5,000 pounds, and haul cargo like champs, but that's about where the similarities between the Honda Pilot and Toyota 4Runner end.
For a start, one is a crossover built to handle light off-road conditions and the other is an SUV that's a tried-and-true off-road specialist. While this means both have distinct characteristics buyers will find appealing, which one is the better buy for the average family?
Continue reading to find out.
See a side-by-side comparison of the Pilot & 4Runner »
What the 4Runner Gets Right
The 4Runner is one of the last of a dying breed, as its body-on-frame construction gives it a solid, truck-like feel. It also boasts true off-road cred thanks to its 9 inches of ground clearance, tougher-than-average suspension, and an available TRD Off Road package that adds a locking rear differential and multi-mode traction control.
Stylistically, the 4Runner looks the part of an off-road monster too. Its body is upright and boasts sharp creases, while still looking modern. Inside, there's more ruggedness with its relatively basic dash and controls. The 4Runner is also quite the cargo hauler with up to 89.7 cubic feet of cargo room with the rear seats folded, besting the Pilot by 5.8 cubes.
Finally, the 4Runner is well equipped in every trim, even in the base SR5 model, and it has plenty of options to fit the more discerning buyer.
What the Pilot Gets Right
With a $31,875 base price (destination fees included), the Pilot offers a better overall value than the 4Runner, which starts from $35,605 (destination fees included). And at this price, you're getting a crossover that's just as well equipped – maybe even better equipped than – the base 4Runner.
Also on the Pilot's side is its ride quality. Because it is built more like a high-riding sedan than a family-prepped truck, the Pilot delivers a far more comfortable ride. Also, its roomy cabin, high-comfort seats, and loads of storage space for pocket-dwelling items leave occupants satisfied, even on long trips. In a pinch, the Pilot can haul up to eight people, though the third-row seating is a bit tight with just 31.9 inches of legroom.
Under its hood, the Pilot's 3.5-liter V6 engine delivers a smooth 280 horsepower – 10 hp more than the 4Runner – through a slick nine-speed automatic transmission. And with EPA ratings of up to 19 miles per gallon city, 26 highway, and 22 combined, the Pilot bests the 4Runner by 2 mpg city, 5 highway, and 4 combined.
Got Serious Off-Roading, Go 'Yota
The 4Runner is what it is: a niche vehicle that does just enough to satisfy the family-hauling buyer. But at its core, Toyota built the 4Runner to handle above-average off-road duty, making this perfect for the buyer who lives a bit off the beaten path or just frequents the trails between soccer practices and dance recitals.
Verdict: Honda Pilot
The thing is that not everyone is trekking through the forest to get to their garage, so the Pilot is a pretty easy choice for most families. It's competent enough in mild off-road conditions and performs admirably in poor weather with all-wheel drive. Plus it does this with a ton more comfort than the 4Runner ever could.
Take a closer look at the Honda Pilot »
Take a closer look at the Toyota 4Runner »