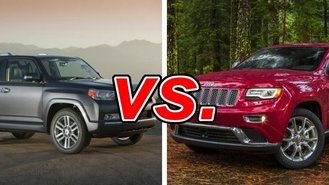 Few marques in the auto world can claim the same legendary off-road status as Toyota and Jeep. The Toyota 4Runner and Jeep Grand Cherokee have both served to aid their respective namesakes in this regard, while also helping to define the modern market for sport utility vehicles.
See a side-by-side comparison of the 4Runner & Grand Cherokee >>
While both offer plenty of options for comfort and practicality, which stays the closest to its off-road roots?
What the Toyota 4Runner Gets Right
The 4Runner is comfortable and smooth on the highway, but also has plenty to offer if you're looking to head off in search of the road less traveled -- or never traveled. The Trail model offers a live rear-axle, locking rear-differential and CRAWL mode that automatically controls throttle response over the tough terrain.
Power comes from a 4-liter 270-horsepower V6 mated to a 5-speed automatic transmission. This power allows the 4Runner to tow up to 4,700 pounds, which is plenty for a boat or RV trailer.
What the Jeep Grand Cherokee Gets Right
The Jeep is well-styled and comfortable. This, however, is only the tip of the iceberg. The Grand Cherokee has its own version of a multi-terrain mode selection that allows you to choose how the vehicle will automatically adjust torque split and throttle response. The Jeep's ride height is also mode-adjustable, with as much as 11.1 inches of available clearance.
The Grand Cherokee comes with a variety of engines: a 3.6-liter 290-horsepower V6, a 5.7-liter 360-horsepower V8 and a brand new 3-liter V6 diesel that produces 240 horsepower and 420 pound-feet of torque. Equipped with the diesel, the new Grand Cherokee can tow up to 7,200 pounds and achieve as much as 30 mpg.
Who Stays the Closest To Their Off-Road Roots?
Both the Toyota and the Jeep stay close to home, but the available live-axle and locking rear-differential of the 4Runner are as true to the SUV spirit as you can ask for these days. This isn't at all a slight to the capable Grand Cherokee, but the Jeep's fully-independent suspension system was added in order to improve on-road handling and feel, not to climb a rock face.
Winner: Jeep Grand Cherokee
While both are great choices, we feel the Jeep's variety wins out. Buyers want choices -- always have and always will -- and the Jeep gives you more liveable all-around functionality for your money.
Take a closer look at the Toyota 4Runner >>