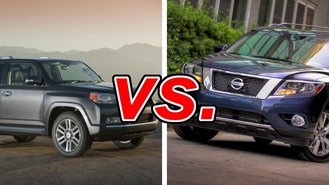 There are many long-standing rivalries in the automotive world that live and breathe to this day: Mustang vs. Camaro, Impreza vs. Lancer and F-150 vs. Silverado, just to name a few. Another such competition is just as fierce: the struggle between the Toyota 4Runner and the Nissan Pathfinder.
See a side-by-side comparison of the 4Runner & Pathfinder >>
They were introduced at roughly the same time -- the Toyota in 1984 and the Nissan in 1985 -- and both have their origins as trucks with an SUV's skin. Both have also undergone extensive changes over the years, but do they appeal to the modern buyer looking for a midsize SUV in which to haul the kids to school and activities?
What the Toyota 4Runner Gets Right
Of the two, the Toyota 4Runner holds closest to its roots. If you were to choose the Trail model, you get a live-axle, a locking rear differential, multi-terrain selection and a CRAWL mode that works much like a low-speed cruise control for the trail.
The 4Runner is powered by a 4-liter 270-horsepower V6 mated to a five-speed transmission. This is plenty of power to move you and six passengers up to the trail to your rustic mountain cabin. Fuel economy is rated at 17 mpg city and 22 mpg highway.
What the Nissan Pathfinder Gets Right
The Pathfinder may not have all the trail goodies of its counterpart, but it's still pretty capable off-road with its own multi-select that allows you to switch from two-wheel to four-wheel drive, or all the way to a locking four-wheel drive for those particularly challenging situations.
Newly redesigned for the 2013, power comes from a 3.5-liter 260-horsepower V6 mated to a continuously variable transmission. The Pathfinder also holds a total of seven occupants, but the new transmission allows the Nissan to achieve higher fuel efficiency ratings with 20 mpg city and 26 mpg highway.
Do They Translate To the Modern Buyer?
Both vehicles offer plenty in terms of comfort and capability to appeal to the demands of the modern buyer. Realistically, the modern, family-oriented shopper is more worried about space and comfort than suspension travel.
Winner: Nissan Pathfinder
We chose the Nissan Pathfinder because it makes more sense to more buyers. The Toyota can quickly get to $40,000 and, for the price, the Nissan offers more in terms of creature comforts.
Take a closer look at the Toyota 4Runner >>