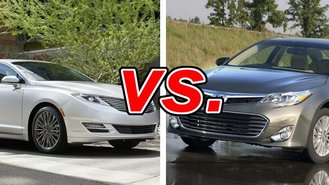 A big sedan and a hybrid may have sounded like two mismatched things. But like peanut butter and chocolate, they work well. The Lincoln MKZ Hybrid and the Toyota Avalon Hybrid are two cars vying for sedan buyers who want both luxury features and better fuel economy.
The Toyota Avalon Hybrid is a full-size luxury sedan that's doing its best interpretation of a modern American highway cruiser -- but with better fuel economy thanks to a gas-electric hybrid system similar to the midsize Camry's. The Lincoln MKZ Hybrid is that American luxury brand's interpretation of a comfortable Lexus sedan, but with, you guessed it, a gas-electric hybrid system that's basically what you get in the midsize Ford Fusion.
See a side-by-side comparison of the Avalon Hybrid and MKZ Hybrid »
All about the Lincoln MKZ Hybrid
The Lincoln MKZ Hybrid does share its roots predominantly with the Ford Fusion, but that's no bad thing since the Fusion is one of the most premium-feeling midsize sedans on the market, and its hybrid variant is accomplished. The Lincoln, however, adds a special interior with curvaceous lines and an exterior that's striking as well. Best of all, opting for the hybrid doesn't mean paying a premium over the gasoline-only equivalent, and there's a host of premium options available that befit a car of this prestige.
See more hybrid car comparisons here »
All about the Toyota Avalon Hybrid
The Toyota Avalon Hybrid is a full-size sedan, aimed at giving comfortable cruising for four or five passengers. The fact that it has Lexus-like qualities of refinement is no surprise since it shares a basis with the Lexus ES Hybrid. But just because the Avalon lacks a prestigious badge doesn't mean it lacks prestigious features. The technology offered is up-to-date and the whole atmosphere isn't off the pace of the Lincoln's. Plus, fuel economy that's more typical of a compact hatchback is a serious bonus in this full-size sedan.
Where the MKZ Hybrid has an edge on the Avalon Hybrid
The MKZ Hybrid has the more potent hybrid system, which can last longer on electric-only propulsion than the Avalon's. And the Lincoln offers features such as a full-length sliding panoramic sunroof and accomplished THX audio. But opting for those features, and others, hikes the price tag up into luxury car territory.
Our Verdict: Toyota Avalon Hybrid
So the Avalon Hybrid wins this, partly because it's more sensibly priced. While it lacks the Lincoln's panache, it has its own version of comfortable luxury married to efficiency.
Take a closer look at the Lincoln MKZ Hybrid »