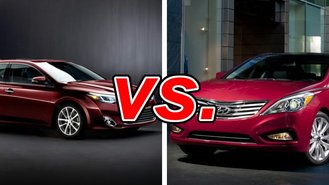 The Hyundai Azera has always aimed to deliver buyers value and big-car roominess at a reasonable price. When it came to overall styling and driving dynamics, the Azera used to be at the back of the pack -- trailing rivals such as the Toyota Avalon, which pleased buyers with its compelling blend of elegant styling, standard equipment and interior room.
In 2013, the Azera did an about-face, bringing out a brand new model to compete with its rivals in the full-size sedan department – including the Avalon, which received a pleasing refresh in 2013. Does Hyundai's big four-door finally have what it takes to compete, or will the beloved Avalon retain its status as the better choice in this hotly-contested segment?
See a side-by-side comparison of the Avalon & Azera >>
What The Hyundai Azera Gets Right
The modern Azera has styling that makes it visually appealing to buyers. Borrowing most of its fluid design language from the smaller Sonata, the bigger Azera features plenty of sleek curves, elegant lines and bold creases that do an excellent job of making the car stand out when viewed against many competitors. Its expressive front fascia is particularly impressive.
The interior of the Azera will please buyers with its fresh appearance and extensive list of standard equipment. Performance comes from the 3.3-liter V6 that also powered its pre-2013 models. Thanks to direct injection, power is up slightly to 293 horsepower, while freeway mileage is 1 mpg higher at 29 mpg.
Why Choose the Toyota Avalon Over The Hyundai Azera?
The latest Avalon features a cabin with an upscale fit and finish that nearly rivals the Lexus ES, with which it shares a platform. This is especially apparent in a higher grade of leather and plastics, as well as features such as LED lighting and capacitive-type buttons for some features. Overall, the Avalon has a luxury-oriented flair. Buyers will also be pleased with the generous amount of legroom and the company's familiar Entune system.
Has the Toyota Avalon Been Outclassed?
Despite its improved interior quality and extensive list of standard equipment, the Avalon still falls a bit behind competitors such as the Hyundai Azera. The exterior styling of the Avalon is a love-it-or-hate-it affair. In addition, its 3.5-liter V6 makes slightly less power than the Azera.
Our Verdict: Hyundai Azera
While the Toyota Avalon is still a compelling entry in the full sized sedan segment, its jumbled exterior styling is no match for the Azera, and its lower horsepower ratings keep it from winning our comparison.
Take a closer look at the Toyota Avalon >>