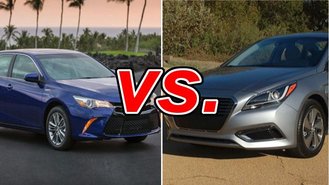 As yearly sales numbers make it easy to see, Americans love midsize sedans. So with the rise in environmental awareness, it only makes sense that we would love hybrid midsize sedans as well. Yet the process of turning a standard powertrain into a hybrid can be tricky, sometimes resulting in a vehicle significantly different from the non-hybrid model.
Toyota and Hyundai both sell hybrid versions of their popular Camry and Sonata sedans, respectively, but took different approaches in producing them. Of course this causes us to ask, which approach is better?
See a side-by-side comparison of the Camry Hybrid & Sonata Hybrid »
What the Toyota Camry Hybrid Gets Right
Toyota opted to throw out the Camry's standard engine and design a unique gasoline-electric powertrain. The gas engine is a 2.5-liter four-cylinder that combines with an electric motor to deliver 200 horsepower to the front wheels and a 7.6-second sprint to 60 mph. Paired with a continuously variable transmission (CVT), fuel economy is estimated at 43 mpg city and 39 mpg highway. The electric motor provides low-speed propulsion for consistent throttle-response.
The Camry Hybrid is available in the mid-range (LE) and top-of-the-line (XLE) trims, meaning many options will already be standard. Plus, high-quality interior materials and an open cabin-design make for a pleasant passenger experience.
What the Hyundai Sonata Hybrid Gets Right
For the 2016 model year, Hyundai completely revamped the Sonata Hybrid, bringing it in line with the rest of the Sonata lineup. This gives the hybrid midsize the most elegant look it has ever had and plenty of standard features to go along with it.
With this redesign also comes a new powertrain, as the Sonata Hybrid now features a 2-liter engine that produces 154 horsepower and an electric motor that chimes in with another 51 horsepower. The net output comes close to the Camry at 193 horsepower, but it is a good bit thriftier on the highway and beats the Camry by a slim margin in combined fuel economy.
The restyled Sonata Hybrid also squeaks out a victory in overall passenger volume and trunk volume when compared to the Camry.
Which hybrid is superior?
Choosing a winner is pretty tough here, as the Camry performs better than the Sonata and has a better-tested hybrid system, whereas the Hyundai's looks are sharper, it has more cabin room, and it can carry a little more luggage. It all comes down to what is more important to you, the consumer.
Our Verdict: Toyota Camry Hybrid
Better fuel-mileage and a well-designed powertrain tip this match in favor of the Camry Hybrid.
Take a closer look at the Toyota Camry Hybrid »