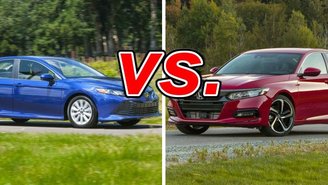 Two perennial competitors are freshly updated, but taking decidedly different paths in the midsize sedan segemtn. While the 2018 Toyota Camry took a turn for the sporty, the 2018 Honda Accord shifted to a more upscale look with its redo.
Which of these two heavyweights in the midsize sedan class will come out on top? Continue reading to find out.
See a side-by-side comparison of the Camry & Accord »
What the Camry Gets Right
The new-look Toyota Camry is sportier looking than the new Accord – we dig the style, especially with the sporty SE trim. On top of its new look, the Camry is also one of the safest cars in its class, as it aced every single IIHS test. What's more, all the safety features that helped it ace these tests are standard. The Accord just missed the top IIHS rating due to its "Acceptable" rating in the IIHS headlight tests – the Camry earned the top headlight rating of "Good."
At 206 horsepower, the base Camry's four-cylinder engine has 14 hp more than the base Accord. The Camry's standard fuel economy of 29 miles per gallon city, 41 highway, and 34 combined beats the Accord's base fuel economy by 3 mpg highway and 1 mpg combined.
The Camry also offers 1.7 inches of extra rear-seat leg room when compared to the Accord.
What the Accord Gets Right
A fantastic driver's sedan, the Accord, particularly with its available six-speed manual is a blast. The three-pedal setup is available with both four-cylinder turbocharged engines. Inside, the Accord gives occupants a smooth ride and super-comfortable seating for even the longest of drives. The Accord also comes loaded to the gills with an eight-inch touchscreen infotainment system, a seven-inch display in the instrument cluster, Bluetooth connectivity, a USB port, and 17-inch wheels.
The Accord's optional 2.0-liter turbocharged engine, which it borrows from the Civic Type R, may not be as powerful as the Camry's V6, but its 273 pound-feet of torque provides amazing pulling power. Plus, its 10-speed transmission is the latest and greatest. Additionally, the Accord's handling is more stable than the Camry's, and its steering has more feedback.
Finally, the Accord's 16.7-cubic-foot trunk is cavernous compared to the 14.1 cubes the Camry offers.
Need Sportiness, Go Camry
The Toyota Camry is a great option, but the Accord is the all-around better choice. If you need the sporty look, though, the Camry is likely a great option for you.
Verdict: Honda Accord
While the Camry is just fine, the Accord is well beyond just fine. It has plenty of peppiness, tons of room inside and in the trunk, and an elegant look that sets it apart from the crowd.