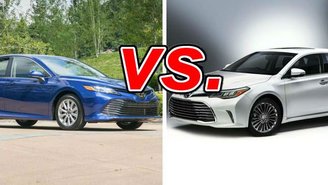 One of Toyota's worst-kept secrets is the direct relationship between the Avalon and Camry. Throughout the years, Toyota has placed more separation between the two models by stretching the Avalon a bit, adding stylistic differences and installing exclusive features. The all-new 2019 Avalon represents the largest separation between it and its Camry cousin, as they look dramatically different, even when placed next to each other. Additionally, the Avalon boasts tons of exclusive features and untouchable luxury when compared to the Camry. Is this all enough for us to say the massive price difference is worth it? Continue reading to find out.
See a side-by-side comparison of the Avalon & Camry »
What the Camry Gets Right
With a starting price of just $24,415 (including destination), the 2018 Camry is a whopping $11,755 cheaper than the 2018 Avalon. In fact, buyers can go all the way up to the range-topping Camry XSE trim and still end up cheaper than the base Avalon. The Camry is also 3.9 inches shorter and 0.4 inches thinner than the Avalon, making it easier to maneuver in tight spaces.
The Camry cannot quite match the Avalon in terms of overall features, but the range-topping XLE and XSE models come with real leather upholstery, whereas the more expensive base Avalon comes with leatherette upholstery.
While the Camry's base four-cylinder powertrain can't match the Avalon's 301-horsepower V6, it's far more fuel efficient at 29 miles per gallon city, 41 highway, and 31 combined. On the hybrid side, the Camry also wins with a fuel economy rating of up to 52 mpg combined.
What the Avalon Gets Right
The Avalon is 3.9 inches longer and boasts a 1.8-inch-longer wheelbase, which gives it a roomier interior. This translates into 39.2 inches of leg room and 57 inches of shoulder room in the rear seat, which bests the Camry by 1.2 inches and 1.3 inches, respectively. Its trunk is also 1.9 cubic feet larger at 16 cubes.
In addition to its larger cabin, there are more upscale features that the Camry cannot match. These include its nine-inch touchscreen, synthetic suede, 19-inch wheels, premium JBL audio system, and more. The Avalon's ride characteristics are also different, as it places more focus on comfort and quietness than the Camry.
Thinking Luxury, Pick the Avalon
The Avalon caters to a select group: those looking for premium quality at a Toyota price. It beats the Camry in virtually every quality and comfort department, but this all comes at one big price hike.
Verdict: Toyota Camry
While the Toyota Avalon is a great overall value, it's only for certain buyers. The Toyota Camry is the better overall value for the average shopper, as it still provides plenty of room, and you can load it up while keeping the price well below the Avalon.
Take a closer look at the Toyota Avalon »