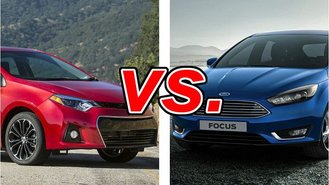 The poster car for mass-market appeal, the Toyota Corolla is the reigning best-seller of all time. It's hard to quibble with success like that, especially since demand continues to this day unabated. With its renowned reliability and economical operation, the Corolla attracts a diverse and loyal clientele.
Try Our Side-By-Side Comparison Tool »
The first two generations of the Ford Focus showed promise, but didn't make the splash Ford had hoped for. Though popular enough, it was regarded more as a competent Escort replacement than the gamechanger the brand needed. The game did finally change in 2012 when the current Focus debuted with more power, technology and refinement.
The Focus is now more than ready to take on the legendary Corolla.
Where the Corolla Scores
In addition to its bullet-proof reputation, the Toyota offers smooth, stress-free performance with reasonable room and comfort. As in the past, everything is screwed together well and highly functional. Words like nice and dependable come immediately to mind. Parents can feel safe sending their kids off to college in a Corolla, and its easy drivability makes it a natural choice for many types of drivers.
All models carry a 132-horsepower 1.8-liter four-cylinder matched to a five-speed stick or four-speed automatic. Options are plentiful in the upper trim levels, and even the base model comes with standard power windows, locks and outside mirrors.
See more sedan comparisons here »
Where the Focus Scores

A quick look around the Focus reveals that it's a cut above the average economy car. The styling manages to be sharp and expressive without offending conservative buyers. It's obvious that interior refinement was a high priority during development. High-quality materials abound, and the dashboard flows beautifully across the driver and front passenger.
The Ford gets going in a hurry courtesy of its 160-horsepower 2-liter engine. It's potent for this class and still delivers up to 40 mpg on the highway. Crisp handling and a well-balanced suspension contribute to an overall feeling of satisfaction in daily driving.
Which Stands Out?
The Corolla is the consummate safe bet. Just buy and enjoy. Its popularity should come as no surprise since shoppers always love a no-brainer.
The Focus isn't such a natural choice, but the current version has earned healthy respect. With performance and refinement that defy its economy-car price, the Ford has become a formidable player in this crowded field.
Our Verdict: Ford Focus
As always, the Corolla delivers exactly as promised, but the latest Focus simply delivers more.
Take a closer look at the Toyota Corolla »