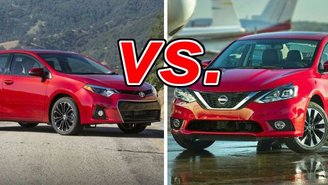 Without much fanfare, the Toyota Corolla has become an icon of the automotive industry. It surpassed the Beetle and Model T long ago to become the best-selling car in history. Buyers have always lined up for the compact sedan, attracted to its mix of price, economy, and reliability.
After years of playing second fiddle, the Nissan Sentra has caught up to Corolla in a big way. It's now a refined little sedan with mature looks and a passenger-pleasing interior.
How well does today's Sentra stack up against the ever-popular Corolla?
See a side-by-side comparison of the Corolla & Sentra »
Corolla Highlights
It's hard to say anything bad about the Toyota. It's a quiet, smooth performer that's roomy for its class and screwed together well. Parents can feel safe sending their kids off to college in a Corolla, and its easy drivability makes it a natural choice for the average commuter.
All Corollas carry 1.8-liter four-cylinder engine that puts out 132 horsepower, or 140 in Eco models only. A six-speed manual is standard, although most buyers will opt for the four-speed automatic or newly available continuously variable transmission (CVT). Options are plentiful in the upper trim levels, and even the base model is decently equipped.
Sentra Highlights
The Sentra aims for above-average refinement for its class, and certainly achieves it. The understated styling will remind you of more expensive cars and is likely to wear well over time. There's more passenger space than expected in this class, especially in the back. Fit and finish are excellent throughout, well beyond anything found in previous generations of Sentras.
Underneath the skin, the focus is efficiency. The 1.8-liter four-cylinder makes 130 horsepower and delivers up to 40 mpg on the highway with the available CVT.
Which Works Better?
Very little separates these models in terms of performance and everyday drivability. Buyers stepping down from larger cars will undoubtedly appreciate the refined Sentra, while the Corolla maintains its position as a paragon economy-car virtue.
Our Verdict: Toyota Corolla
The Sentra might be plusher, but the Corolla delivers more of what buyers want in an inexpensive car.
Take a closer look at the Toyota Corolla >>