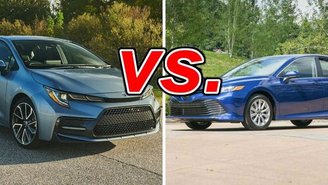 The Toyota Corolla enters yet another decade with a total redesign that emphasizes style and performance. If history holds, millions of buyers will find the latest Corolla to be the best answer to their transportation needs. For those wanting something a little more substantial, Toyota offers the mid-size Camry, a family-car staple that continues to thrive in the face of stiff competition from more versatile crossovers. Is the Camry worth the extra coin, or does the new Corolla do the same job for less?
See a side-by-side comparison of the Corolla & Camry »
What the Corolla Gets Right
The all-new Toyota Corolla breaks out of its box this year with aggressive bodywork and a streamlined interior that's equal parts function and elegance. Two new engines and a stiffer chassis make the Corolla altogether more rewarding to drive.
The list of standard features reads like it belongs to a more expensive car. Every Corolla comes with adaptive cruise control, lane keeping assist, automatic high beams, Apple CarPlay, and more.
The Corolla starts out with a 1.8-liter four-cylinder engine that produces 139 horsepower and 126 pound-feet of torque. A continuously variable transmission comes standard. The EPA rates this setup at 30 miles per gallon city, 38 mpg highway, and 33 combined.
The available 2.0-liter four-cylinder gives the Corolla some real get-up-and-go, in addition to slightly better fuel economy. The engine delivers 169 hp and 151 lb-ft of torque, and is EPA-rated at 31/40/34 mpg (city/highway/combined).
What the Camry Gets Right
The Camry started the in-house styling trend that the Corolla now follows. Today's Camry could easily pass for a sport sedan on the outside, if not in actual performance.
Despite its roomy five-passenger interior, the Camry gives up nothing to smaller sedans when it comes to efficiency. With the standard 2.5-liter four-cylinder (203 hp and 184 lb-ft of torque) and eight-speed automatic transmission, the Camry is EPA-rated at 29/41/34 mpg.
The light and responsive steering makes for easily maneuverability around town, and the supple suspension feels just right for highway travel. For buyers who find the standard Camry a bit too serene, Toyota offers a 3.5-liter V6 that musters up 301 hp and 267 lb-ft of torque.
What Size Is Right?
Both sedans are remarkably close in standard equipment, efficiency, and style. The defining difference is purely a function of size. The Toyota Camry gives buyers more room and a smoother ride in return for about $5,000 more than the Toyota Corolla.
Our Verdict: Toyota Camry
For buyers with priorities other than price, the Toyota Camry will likely prove more satisfying.
Take a closer look at the Toyota Corolla »
Take a closer look at the Toyota Camry »