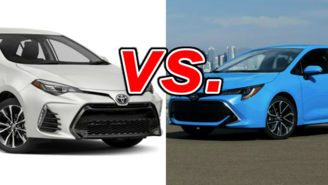 Sharing a nameplate, both these vehicles are variants of one of the bestselling models in the world. Sedans may be out of fashion, but the Corolla still seems to win over buyers. The Corolla Hatchback offers more practicality and a different trim structure but still prioritizes value. However, neither is without compromises.
See a side-by-side comparison of the Corolla & Corolla Hatchback »
What the Corolla Gets Right
With a sedan body and a smaller engine, the base 2019 Corolla is $1,290 cheaper than the base 2019 Corolla Hatchback. That's a significant chunk, especially when you consider that both cars come with all the same standard active safety technologies.
To make matters worse for the hatch, the Corolla sedan actually has better passenger space. Despite its taller rear, the Hatchback is about 13 inches shorter than the sedan. That translates to more than 11 extra inches of rear leg room in the sedan.
What the Corolla Hatchback Gets Right
Although the starting price is higher, the Corolla Hatchback packs in more standard features. These include heated side mirrors, an auto-dimming rearview mirror, and automatic climate control.
Unsurprisingly, the hatchback also has more cargo capacity, with 17.8 cubic feet behind the rear seats. That compares favorably to the 13 cubic feet found in the sedan.
Perhaps most substantially, the hatchback manages to win out on both power and fuel economy. The hatchback's base engine is rated for 168 horsepower, compared to the sedan's 138. When equipped with the continuously variable transmission (CVT), the Corolla Hatchback returns an EPA-estimated 32 miles per gallon city, 42 mpg highway, and 36 combined. The sedan with the CVT only achieves 28/36/32 mpg.
Which Flavor of Vanilla?
Both Corolla bodies make the same argument: practicality and efficiency at a budget-friendly price. The sedan is cheaper and offers valuable rear leg room, but the hatch gets a better powertrain, more standard features, and better practicality.
Our Verdict: Toyota Corolla Hatchback
It may require a slight price hike, but we think the Toyota Corolla Hatchback is worth the extra coin. The extra features don't go amiss, but more important are the fuel efficiency and extra cargo space. We won't mind the extra power on the highway, either.
Take a closer look at the Toyota Corolla »