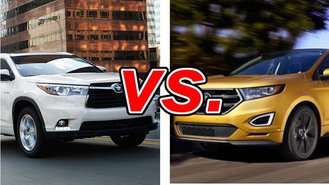 The Toyota Highlander is one of the best options in the crossover SUV market. But it faces strong competition from the Ford Edge, which enjoys slightly superior popularity with American families.
See a side-by-side comparison of the Highlander & Edge >>
And while the Ford Edge has fended off the competition for years, its rivals keep getting better and better. So has the Highlander managed to surpass the Ford Edge as the premier crossover SUV?
What Makes the Highlander Great
The Highlander seats seven, offers two great engine options, four trim levels and all-wheel drive. There's a lot to like about it. On the road, the Highlander handles with the agility of a smaller car, while still maintaining plenty of SUV utility.
The second-row seats have an innovative design, and few vehicles are more versatile than the Highlander. It even has a respectable towing package, making it a great choice for a wide variety of uses and buyers.
What Makes the Edge Great
The Edge offers a quiet, comfortable ride, lots of standard features, nimble handling, and an efficient set of six-cylinder engines that are extremely reliable; both the 3.5-liter and 3.7-liter V6 engines are more fuel efficient than the Highlander. At extra cost, you can opt for an EcoBoost four-cylinder engine that delivers impressive power and economy. All-wheel drive is available on even the lowest trim level.
The highlight of the Edge, though, is the interior experience. It seats only five, but room is outstanding. It's sort of like driving around in your living room.
Has the Highlander Become the Best in Class?
The Edge offers a level of comfort and technology that is just better than the Highlander. With superior gas mileage, three fantastic engine options, all-wheel drive on every trim and great options, it's difficult to beat the Edge.
That said, the Highlander seats seven versus the Edge's five, is extremely versatile, fun to drive and offers nearly everything the Edge does. In short, it comes down to comfort and style versus utility.
Our Verdict: Ford Edge
With better fuel economy, a more comfortable interior, and broader options for personalization, we prefer the Edge to the highly competitive Highlander.
Take a closer look at the Toyota Highlander >>