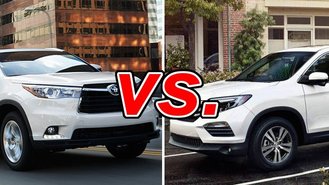 In the extremely competitive crossover SUV market even the slightest edge is enough to push one vehicle past another. Take the Toyota Highlander and Honda Pilot, for example. Both vehicles offer a car-based platform and a whole lot of versatility, leaving us to wonder if it really matters which one we buy.
See a side-by-side comparison of the Highlander & Pilot >>
So are these two vehicles really that similar, or is there something that pushes one to the forefront?
What the Toyota Highlander Gets Right
Like many in this class the Highlander is extremely versatile. It offers seating for seven passengers, innovative second-row seat design, a variety of entertainment and technology options, and a quiet, comfortable interior. Four trim levels ensure a broad spectrum of options and features, not to mention several price points for potential buyers to choose from.
Two engine options -- a 2.7-liter inline four-cylinder and a 3.5-liter V6 -- are respectable. Available all-wheel drive is another selling point. The six-cylinder engine is surprisingly quick for a crossover, and the Highlander is more agile and maneuverable than most of the competition.
What the Honda Pilot Gets Right
While the Highlander seats seven, interior space remains limited. Not so with the Honda Pilot. Seven fit comfortably inside and there's even room to spare. The boxy exterior lines lend themselves to copious cargo space. Four trim levels and optional four-wheel drive ensure that you will find a combination of options and features that meet your needs.
While the Pilot may offer only one engine -- a 3.5-liter V6 -- it still leads the crossover class in fuel economy at 18 mpg city and 25 mpg highway. The interior is well-designed and highly useful, with careful consideration given to placement of controls.
So Are These Basically the Same Vehicle?
We can say good things about both vehicles, and note that differences are slight. The Highlander has better handling than the Pilot, more attractive exterior styling and two engine options. However, the Pilot is roomier, gets better gas mileage and features a better-designed cabin.
Our Verdict: Toyota Highlander
While the Pilot has a lot to offer, we prefer the exterior design, versatility and agile handling of the Highlander.
Take a closer look at the Toyota Highlander >>