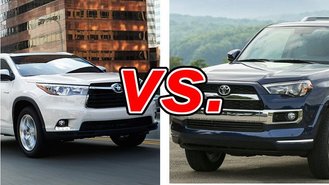 Searching for your next SUV can be an arduous task with the array of sizes and capabilities offered by auto manufacturers. Although even when a buyer is confident in a particular brand, there are still choices to be made. Take Toyota for example, which produces two SUVs with similar features. Both the Highlander and 4Runner are four-door SUVs available with V6 engines and seating for at least five. With so much in common, the key issue for buyers will be the differences.
See a side-by-side comparison of the Highlander & 4Runner >>
Going Head to Head
In general, the Highlander is a more family-friendly SUV thanks to its versatility. Not only are there three rows of seats for up to seven passengers, but the Highlander's unibody construction makes for a better ride on pavement. Plus, unlike the 4Runner, the Highlander is available with a hybrid powertrain.
On the other hand, the 4Runner is outfitted with the legendary solid rear axle that has helped make this model known as much for off-road capability as on. The 4Runner is available only with a strong V6 that provides an average of 3 mpg less than the Highlander's standard four-cylinder engine. The 4Runner comes with rear-wheel drive as standard, but does offer full-time four-wheel drive on pricier trims.
Both SUVs have a maximum cargo capacity of around 92 cubic feet and are also close in length -- at just under 16 feet.
A small but telling feature in how these two SUVs differ is the removable center section in the Highlander's middle-row of seats. Once removed, the second row becomes two captain's chairs with an open aisle between them, allowing easy access to rear seating, much like a minivan.
Our Verdict: Toyota Highlander
While the 4Runner can carry five passengers and all their cargo through the woods, that's just not what most are looking for in a modern SUV. Offering utility in a more drivable package, the Highlander takes this Toyota comparison.
Take a closer look at the Toyota Highlander >>