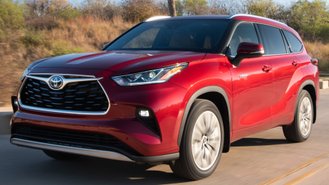 After the RAV4, the Toyota Highlander and 4Runner are the brand's two bestselling SUVs. The two mid-size haulers offer different takes on the segment, though they start in the same price range. As a result, buyers may find themselves cross-shopping both models.
Here's a brief comparison of some of the key specs and features that could help you decide which one is worth the money. Whether it's fuel economy, towing, or safety features, both SUVs offer some notable differences.
See a side-by-side comparison of the Toyota Highlander & 4Runner »
What the Highlander Gets Right
Unlike the 4Runner, the Highlander is based on a unibody construction for a carlike driving experience. As a result, the Highlander also makes better use of its interior space. Rear passengers in the Highlander enjoy about eight inches more leg room than they'll find in a 4Runner.
The Highlander is more efficient in every form. The 4Runner maxes out at 17 mpg combined, while the Highlander manages 23 mpg combined with the default V-6. The Highlander is also available with a hybrid powertrain, which boosts fuel economy to an impressive 35 mpg combined.
While both models benefit from modern safety tech like adaptive cruise control, the Highlander's modern construction earns better safety scores from federal and independent testers. The IIHS bestowed a Top Safety Pick+ award on the Highlander, an honor the 4Runner can't claim.
Finally, the Highlander starts about $1,700 cheaper than the 4Runner.
What the 4Runner Gets Right
The 4Runner's main asset is its capability. Large tires, 9 inches of ground clearance, and effective all-wheel drive systems provide confidence in almost any conditions. The Highlander also offers all-wheel drive, but it has less clearance and fewer off-road features.
If trailblazing is a priority, the 4Runner is available in several impressive TRD trims. These come with features like a lifted suspension, a locking rear differential, and trail cruise control.
The 4Runner may use an older platform, but it keeps up well in the tech department. In addition to Toyota's active safety tech, it gets the same eight-inch touchscreen as the Highlander.
New vs. Old School
These two SUVs offer distinct personalities. The Highlander is a modern family hauler, better suited to soccer-practice carpools than off-road duty. It's safer and more comfortable than the 4Runner, and it starts slightly cheaper.
The 4Runner sacrifices space and efficiency for the sake of capability. When conditions are difficult, the 4Runner is among the best SUVs on the market.
Our Verdict: Toyota Highlander
If you live deep in the Rocky Mountains, you'll want the 4Runner. For most buyers, however, the Toyota Highlander is the better buy. Particularly with the hybrid powertrain, it's a crossover with few downsides.
Take a closer look at the Toyota Highlander »