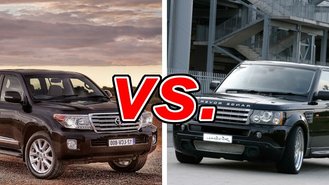 With as many SUVs, CUVs and SAVs as there are in the marketplace, few can cross the Earth's toughest terrain while coddling occupants with the upscale accoutrements of an executive jet.
See a side-by-side comparison of the Land Cruiser & Range Rover >>
Two that can: the Toyota Land Cruiser and Land Rover Range Rover.
What the Land Cruiser Gets Right

Toyota Land Cruisers weren't always luxurious -- they started as a Jeep clone during World War II. It wasn't until the 1980s that the Land Cruiser started to become the luxurious vehicle it is today.
It's the most expensive Toyota one can buy, and has a base price that's even pricier than that of a Lexus LS 460. For that money, you get near-Lexus-grade materials and craftsmanship, along with world class off-road capability. Less impressive is an archaic five-speed automatic and a 381-horsepower 5.7-liter V8 shared with the Tundra and Sequoia. A towing capacity of 8,200 pounds is commendable, but 18 mpg highway is something of a letdown.
What the Range Rover Gets Right

Though the quintessential symbol of British country life, the modern Range Rover isn't restrained by tradition. It's remarkably light, for instance, thanks to advanced aluminum construction. The base engine -- a 5-liter V8 -- produces a healthy 375 horsepower; if that's not enough, a supercharged variant makes a massive 510 horsepower. Both use a new eight-speed transmission that enhances performance and fuel economy.
The interior is even more lavish than before -- if you can find a feature in a luxury brand's flagship sedan, you can find it here.
Which is the Better Blend of Utility, Performance and Luxury?
The Range Rover. While the Toyota Land Cruiser has the upper hand in standard power, better tow ratings and a lower entry price, it comes at the price of old-fashioned performance -- and not in the charming way.
Our Verdict: Land Rover Range Rover
With a stunning mix of on- and off-road performance in the lap of unparalleled luxury, the Range Rover is a breathtaking winner.
Take a closer look at the Toyota Land Cruiser >>